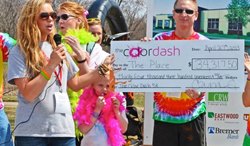 "At Swiftwick, our goals are to help people achieve their athletic ambitions and pursue their passions," said Ryan Hopper, Swiftwick Run National Sales Manager. "We are excited to work with organizations, like the COLORDASH, who share our same mission."
BRENTWOOD, Tenn. (PRWEB) May 05, 2015
Swiftwick, a leading athletic performance sock company, has officially partnered with the COLORDASH as a presenting sponsor. The partnership launched May 3, 2015, at the COLORDASH 5K in Los Angeles, CA.
The COLORDASH is an innovative, untimed community race where participants will begin in a white racing shirt, provided by the COLORDASH. At each kilometer of the race, they will be painted in various colors as they "let the color move them."
The organization demonstrates their commitment to community by pouring 50% of the proceeds into local partnering charities. To date, the COLORDASH has reinvested over one million dollars into host cities across the country.
"My point of view has always been the runners' experience," says COLORDASH Founder and CFO, Camille Torabpour. "Swiftwick's commitment to athletic performance has led them to creating a superior product—the kind we want our dashers to enjoy. Beyond that, every Swiftwick product is 100% American-made. Like us, they care about community and excellence."
The COLORDASH 5K began 3 years ago when Camille and her husband Hamid Torabpour desired to bring more color and inspiration to their family's life after watching their world be washed away by a flood. This disaster claimed the family's home and possessions, causing them to face bankruptcy.
The Torabpour family refused to lose hope and decided to paint a new vision for themselves. They began to draw up the COLORDASH, which would be a way for people and communities of all shapes, sizes, ages and abilities to have a colorful racing experience.
"At Swiftwick, our goals are to help people achieve their athletic ambitions and pursue their passions," said Ryan Hopper, Swiftwick Run National Sales Manager. "We are excited to work with organizations, like the COLORDASH, who share our same mission."
Beginning on July 18, 2015, each participant, who purchases a VIP package for any of the COLORDASH 5K races, will receive a pair of Swiftwick performance running socks. All Swiftwick socks provide a second skin fit due to the Managed Compression™ construction and Chemical Free Wicking to keep feet dry and blister free.
To learn more about Swiftwick socks, visit http://www.swiftwick.com.
To see the full listings of COLORDASH 5k, visit http://cd5k.com/.