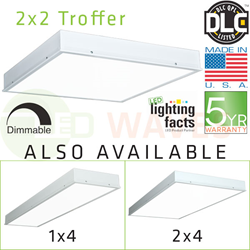 Each LED Troffer Panel Light is made in the USA by LED Waves, and covered by the company's five year extendable warranty.
(PRWEB) May 03, 2015
Lighting manufacturer LED Waves is pleased to introduce the Troffer LED Panel Light series to their selection of fluorescent replacement products.
Available in 1x4, 2x2, and 2x4 foot sizes, the LED troffer is suited for both new constructions and buildings with existing drop ceiling grids. Typical applications include administrative offices, classrooms, hospitals, hallways, restrooms, and other living or working spaces which require ambient overhead lighting.
With 109 lumens per Watt and a lifespan of 50,000 hours at over 70% initial brightness, LED Waves' Troffer series outperforms both fluorescent technology and competitive LED brands. Each unit comes with a 120-277V LED driver, with a dimmable upgrade available (compatible with 0-10 dimmers).
The 2x2 LED panel is a 50 Watt replacement for a fluorescent troffer fixture which typically employs two 32 Watt U-bend bulbs (≥64 Watts total), and is the first in the series to earn a spot on the DesignLights Consortium Qualified Products List (DLC QPL). This makes it eligible for energy saving rebates under the category of 2x2 Luminaires for Ambient Lighting of Interior Commercial Spaces. The 1x4 and 2x4 foot troffers are currently in testing and projected to be DLC qualified this summer.
Each LED troffer panel light is made in the USA by LED Waves and covered by the company's five year extendable warranty. Third party test reports and photometric data for the entire collection are available for download at LEDWaves.com, or by calling 1(800)986-0169.