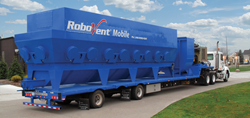 COLUMBUS, Ohio (PRWEB) May 01, 2015
Over the years RoboVent has introduced a number of important breakthroughs in air-cleaning technology, and the introduction of the Mobile Collection line was one of the pinnacles of RoboVent's success. The flexibility offered by a mobile collection unit allows manufacturers engaging in a diverse number of applications to provide clean air solutions for their employees and facility's without the standard limitations many operations face. Standard features included on RoboVent Mobile collectors are:

Large filter doors for easy filter change-outs
Convenient cleanout doors on every intake
Heavy duty construction
High quality components
PowerFlex pulsing system
Vertical filters
Integral diesel-driven blowers
A host of optional features consist of:

Waste Augers
Trailer Mounted or Skid Mounted
On-board Air Compressors
Fluid Coupling
To inquire about the RoboVent Mobile Collection line, please visit http://www.robovent.com or contact 614-498-1700 to schedule a time for a Solutions Director to evaluate your facility!
About The Company
During the past 25 years RoboVent has established itself as leader in the field of air filtration with highly efficient, reliable and cost-effective systems installed at major manufacturing operations across North America. Applications include welding, cutting and metalworking; dust and lubricant mist collection; and general ventilation. RoboVent is headquartered in Sterling Heights, Mich., with sales and service centers located throughout the United States and the world. At its core, RoboVent is an environmental problem solving company for process systems. Their expertise and resources in collecting, filtering and recycling contaminated air can be applied to almost any process in the manufacturing environment. For more information visit http://www.RoboVent.com.
####
Contact:
Stuart Pollak
Marketing Director
614-498-2221
mailto:stuart(dot)pollak(at)robovent(dot)com