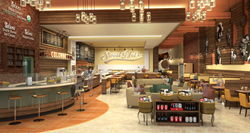 New Franchise Concept Featuring Organic Ice Cream Comes to Philadelphia
Royersford, Pennsylvania (PRWEB) May 05, 2015
Nelson's Creamery has announced plans for the opening of its new cafe concept - "Sweet Nel's". Interior designs for the new concept cafe have been finalized. The company plans to open its flagship in Center City, Philadelphia in 2015 as soon as a site has been finalized and the cafe can be constructed. Eight other locations are planned throughout the Delaware Valley over the next two years and will be franchises.
The cafe will feature Nelson's new certified organic ice creams, Nelson's traditional ice creams and premises-made natural gelato. The cafe also includes a full service coffee operation featuring La Colombe coffees as well as a bakery featuring Famous Fourth Street Cookies and other pastries. Organic ice cream has become a product in great demand nationally. Nelson's Creamery has recently introduced organic ice cream with great success.
Another component of Sweet Nel's is its sustainable and natural business approach, eliminating the presence of chemicals, plastics or artificial ingredients. Products will be served in compostable containers.
Many products are made on the premises, fresh from scratch such as hot fudge, caramel topping, chocolate products and fresh gelato flavorings.
The cafe will be built with reclaimed wood on walls and tables - each wood item used will indicate the historic source of the wood.
Nelson's has been making super premium ice cream in Royersford continuously since the 1920's and is one of the only local ice cream manufacturers left in the Delaware Valley.
Contact Nelson's Creamery for more information: 610-948-3000.