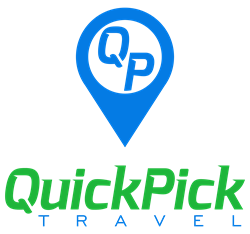 (PRWEB) May 05, 2015
"QuickPick Travel" was featured on NewsWatch as part of its monthly Biz Report, which takes a look small, medium, and large businesses making an impact in their industry. Susan Bridges, a reporter for NewsWatch and a business expert, conducted the business review and shared with viewers how this is the best platform to plan up to three weeks of vacation for free.
Vacations are a sought-after opportunity to unwind, visit family and friends, and explore the world. And when people are preparing for vacations, they're used to getting online and wading through hundreds of search engine results, piecing together a vacation based on the options the search engines choose to show. Unfortunately, this method leaves vacationers confused and overwhelmed.
QuickPick Travel is a company that tries to take the stress out of planning a vacation. They take a person's preferences, their likes and dislikes, their budget, even dietary restrictions and mobility needs and customizes a vacation that's a perfect fit for them. By simply logging into quickpicktravel.com and telling them a little about themselves and the vacation their looking for, they'll receive up to 3 travel itineraries within 24 hours for free.
The results come from travel specialists, not search engines, so trips go from standard, to a concierge-style vacation of a lifetime. QuickPick Travel has set out to revolutionize the way people book travel online. They offer insider tips and location reviews free in their "Travel Insider" and "Journey" publications and frequently give away vacations through photo contests.
To learn more, visit their social media channels or head to http://www.quickpicktravel.com today.
About NewsWatch
NewsWatch is a weekly 30-minute consumer oriented television show that airs on the History Channel, FYI Network, and ION Network. NewsWatch regularly features top technology products and services, mobile applications for iOS, Android, and Windows devices, unique and beautiful travel destinations around the world, health and medical tips, and entertainment interviews on the show. NewsWatch airs on the History Channel at 6:00 – 6:30 AM ET/PT and on the FYI Network from 7:00 – 7:30 AM ET.
NewsWatch is located in the greater Washington, DC area and has been on air for over 25 years. For more information or to watch the most recent episode, visit http://newswatchtv.com/biz-report.html.