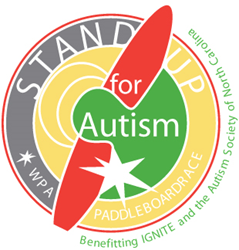 Mooresville, N.C. (PRWEB) May 01, 2015
My Aloha Paddle and Surf, in partnership with 3-time NASCAR champion crew chief Ray Evernham, will host Stand Up for Autism benefiting the IGNITE community center and the Autism Society of North Carolina on Lake Norman May 8-9, 2015, at Port City Club in Cornelius, NC.
The event will feature Elite and Recreational races, which are open to the general public. Limited paddleboard rentals will be available on a first-reserve basis. Paddleboard fitness demos will also be held. The race is sanctioned by the World Paddle Association (WPA) and will be the first regional points race on Lake Norman.
Stand Up for Autism will support IGNITE, a community center in Davidson for young adults with high-functioning autism (HFA) or Asperger's Syndrome (AS). IGNITE offers activities, skills training, and educational workshops that foster social, financial, educational, and employment independence for its members. But most importantly, IGNITE offers a social environment in which members can connect with others and experience a sense of community. IGNITE is operated by the Autism Society of North Carolina and was founded in partnership with NASCAR champion crew chief Ray Evernham whose son, Ray J, has Asperger's Syndrome.
The event will begin Friday evening with a kick-off party from 6-9 p.m. at Port City Club, which will include food, beverages, silent and live auction and music. On Saturday morning, the pre-race meeting will begin at 8 a.m. with the WPA Region 6 sanctioned Elite and Recreational races to follow. The awards ceremony on the beach will begin at 11 a.m. and be followed by a luau featuring the Island Hula Girls along with island music, food and fun activities for all ages.
If interested in sponsoring or volunteering, please contact det(at)rayevernham(dot)com. All event proceeds will benefit the IGNITE Community Center and Autism Society of North Carolina.
For tickets to Friday night's event, please visit: http://standupforautismlkn.eventbrite.com.
To register for the event, please visit: https://paddleguru.com/races/StandUpforAutismWPAPaddleboardRace.
Background:

Autism Spectrum Disorder (ASD) is a lifelong developmental disability that typically appears during the first three years of life. A prevalence study by the CDC indicates as many as 1 in 58 8-year-old schoolchildren in North Carolina may be diagnosed with autism.
For more than 45 years, the Autism Society of North Carolina has worked to address areas of need and expand services for the autism community in North Carolina. ASNC works to directly improve the lives of individuals affected by autism by providing advocacy, education, and services.
For more information, call 1-800-442-2762 or visit http://www.autismsociety-nc.org.