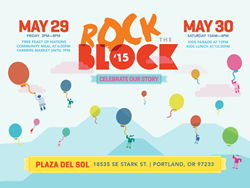 Portland, Oregon (PRWEB) May 13, 2015
The best family block party in East County is back. Rock the Block, Rockwood's family fun celebration, opens for the third year May 29-30 at Plaza Del Sol in Gresham.
Come to the Feast of Nations, meet the Rose Festival Court and cheer llamas, dancers and our kids in the Kids' Parade.
Rock the Block is the Rockwood neighborhood's annual 2-day event hosted by Pathfinders of Oregon in partnership with Multnomah County, the City of Gresham, social service organizations, schools, citizens and private businesses on the Plaza del Sol in Gresham. Rock the Block showcases the vibrant and diverse neighborhood of Rockwood for one jam-packed weekend.
This year's theme is literacy. Event activities will send kids into summer with a renewed interest in reading and writing. Each child will receive books and families can discover ideas to help their kids engage in positive literacy activities over the summer. More than 40 booths and 60 organizations will have information on services and summer activities for children and families. Special guests Brian Grant, the Portland Rose Festival Court and others will be there to read stories to kids and address the crowd.
The event kicks off with the Feast of Nations at 6:30 on Friday evening. The Feast of Nations is a free, community sponsored dinner featuring foods from the diverse communities that call Rockwood home. Mitchell Jackson, who grew up in Portland and is the author of the award winning novel The Residue Years, will address the crowd at dinner and will lead reading activities in the Reading Together tent.
Friday, May 29 Highlights:
● Feast of Nations, 6:30 p.m. featuring award-winning author Mitchell Jackson.
● Rockwood Farmers Market, 3 p.m. to 7.p.m.
● Community Partner booths, 3 p.m. to 8 p.m.
● Music and children's activities, 3 p.m. to 8 p.m.
Saturday, May 30 Highlights
● The Kids Parade, noon. Children should gather at the Plaza del Sol to receive leis, noisemakers, rainbow ribbon hand kites made by Center for Family Success parents and other fun items. Featured guests are Rojo and Smokey, the therapy llamas, SEI Dancers, Boy Scouts, Taekwondo demonstrations, Tongan dancers and more.
● Free Kids Lunch, 12:30 p.m.
● Community Partner booths, 10 a.m. to 4 p.m.
● Music and children's activities, 10 a.m. to 4 p.m.
Rock the Block gives neighborhood residents an opportunity to enjoy safe family fun, nutritious food and access programs for their families. Approximately 2,500 community members connected to youth activities and resource providers in the area at last year's event.
Check us out on Facebook at [http://www.facebook.com/RockwoodNation.
About Pathfinders of Oregon
Pathfinders of Oregon is a 501(c) 3 organization whose mission is to break the cycle of criminality. Pathfinders has taught programs within the Oregon Department of Corrections for more than 20 years. In the community it offers programs to families impacted by the criminal justice system through its Center for Family Success in Rockwood.