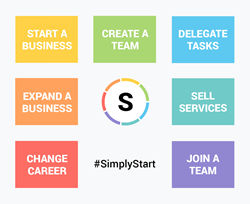 "Starting a business is much easier if you have Steps, Structure, Strategy, Skills, Staff and Support. Big S System Simplifies your path to Success. Simply Start."
Jupiter, FL (PRWEB) May 04, 2015
Big S Business announces the launch of its Indiegogo campaign to raise money for its new and innovative online business platform. It's a comprehensive tool designed to help people realize their dreams and live a better and a more meaningful life.
"I've always believed that awesome people need an awesome platform to meet up and start businesses based on their own dreams and ideas," states Simon Swerdlow, Idea and Vision Man behind Big S Business. "Big S gives people tools and flexibility to start their own business, or use their talents to help others in their ventures."
Big S Business was built on the concept that the traditional workplace is changing. An increasing number of people are moving towards embracing their passions and natural abilities instead of completing a typical college/9-5 job program. Nowadays, people want to make a difference. The platform is 75% ready but needs support to complete Beta version by September and make the world work as a team by 2025. 
Big S Business provides a user with resources she needs to find work/life balance and gain more control over her business. Users will have the ability to create and track tasks and milestones, as well as have the opportunity to meet and work with other like-minded people that can help guide them through the process. "It's like having a business GPS with you, all the time," says S. Swerdlow. "The team has worked tirelessly, and we are very excited to start the campaign. Hope it gets to the hearts, and together we will attain the work/life balance we all deserve."
For more details: visit the Indiegogo page.
About Big S Business
Big S Business is a place to restart your personal story by opening a business of your own, or joining somebody in their exciting new venture, to learn and grow together. It's a place where business is simplified, where passionate people do what they love, and everybody works in a team to make our world better. For more information, please visit Indiegogo campaign for Big S Business.