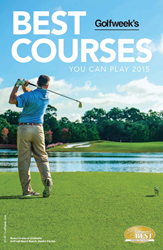 Orlando, Fla. (PRWEB) May 01, 2015
Golfweek has just released its 10th annual "Golfweek's Best Courses You Can Play" guide – an easy-to-read, digest-sized edition that features a comprehensive state-by-state listing of the country's greatest public courses. From municipal masterpieces to resort retreats, these noteworthy layouts are open to all, proving that no matter where golfers are in the United States, exceptional and accessible golf is always just a chip away.
"The Golfweek's Best Courses You Can Play list is a highlight of our entire rating portfolio because it focuses on the places everyday golfers and our readers actually play on a day-to-day basis," said Bradley S. Klein, national director of the Golfweek's Best Courses rating program. "For our 10th anniversary, we've gone beyond the list to showcase the ratings process by explaining how three of our most experienced raters – out of a team of 825 – evaluate the layouts they are looking at."
Along with the full 2015 state-by-state list, Golfweek's Best Courses You Can Play offers detailed information on many of the ranked courses, as well as special editorial features exploring various aspects of golf course architecture.
To build the list of Golfweek's Best Courses You Can Play, a diverse team of experienced evaluators rated each public layout on the basis of 10 criteria, including routing, conditioning, variety and memorability of holes. The result is an average of scores that dictate a course's overall ranking. The number of courses per state varies on this list based on the course supply, population and level of play in each state.
Visit Golfweek.com/GolfweeksBest to view the state-by-state list of Golfweek's Best Courses You Can Play.
About Golfweek's Best Rankings
Since beginning its rating system in 1997, Golfweek has developed the most respected ranking structure in the industry. Golfweek's nationwide team of course raters, which currently boasts 825 evaluators, has surveyed more than 3,000 courses - rating each nominated course on the basis of Golfweek's 10 strict standards of evaluation. Collectively, Golfweek raters have turned in more than 55,000 votes. Golfweek's Best Courses lists include: Modern, Classic, Casino, Municipal, Campus, Residential, Resort, Canadian, Caribbean & Mexico, Great Britain & Ireland and Courses You Can Play.
About Golfweek
Founded in 1975, Golfweek is the most authentic, authoritative and independent voice in golf. Serving enthusiasts who are truly passionate about the game of golf, the Golfweek brand includes Golfweek magazine, Golfweek.com, Golfweek Mobile, Golfweek Custom Media, The Golf Wire and TurfNet.com. Golfweek is part of Turnstile Media Group, which specializes in developing diverse media platforms that engage and strengthen the communities they serve. Founded in 1990 and headquartered in Orlando, Florida, Turnstile Media Group is also the parent of Professional Artist, Winter Park/Maitland Observer, Seminole Voice, Central Florida Senior and Turnstile Connect.
###