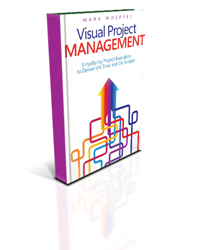 "This book helps managers to realize that although each project has its own unique complexities, execution does not, and should not, need to be difficult." - Mark Woeppel
Plano, TX (PRWEB) May 04, 2015
Today, Mark J. Woeppel released his 3rd book on management and execution. The book, titled Visual Project Management: Simplifying Project Execution to Deliver On Time and On Budget, is based on extensive research and years of experience helping project teams improve productivity, shorten delivery times and reduce project costs.
In the book, readers learn:

The root causes of late delivery and how to systematically identify and weed them out.
How any project can be turned around quickly
How to eliminate the silo effect on project teams, streamlining and improving communication and accountability
A simplified approach to managing project execution, delivering fast, significant results in schedule and budget performance
"Project management executives get so bogged down in the complexities and details of their projects and portfolios that they lose sight of the big picture and are defeated by their inability to effectively guide the work." Woeppel said. "This book helps managers to realize that although each project has its own unique complexities, execution does not, and should not, need to be difficult. The book shows how focusing on a just a few things makes a big difference in the outcome."
Visual Project Management: Simplifying Project Execution to Deliver On Time and On Budget is available now on Amazon.com. You can order your copy here.
About Mark Woeppel
Mark Woeppel is the founder and President of Pinnacle Strategies, an international management consulting firm helping organizations translate operational improvements into real business value by implementing proven methodologies, such as Theory of Constrains, Lean, and Six Sigma, in their organizations.
He is the author of two other books on management and execution, titled Projects in Less Time: A Synopsis of Critical Chain, and The Manufacturer's Guide to Implementing Theory of Constraints. Through both his work at Pinnacle Strategies, and his experience as an author, Mark has seen first-hand how instrumental and transformative the methodologies can be, and is dedicated to teaching as many people as possible how they too can transform their business.