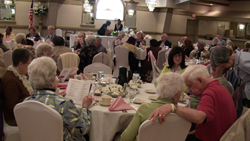 AKRON, OH (PRWEB) May 01, 2015
FOR IMMEDIATE RELEASE
Contact: Cathy Lance
E-Mail: clance(at)matureservices(dot)org
Phone: 330-253-4597 x166
AKRON- Mature Services' RSVP, the Retired and Senior Volunteer Program, will be honoring those who offer their time by hosting the 43rd Annual RSVP Volunteer Recognition Banquet May 13 at Guy's Party Center. RSVP serves both the Summit and Medina communities, and donate a wide variety of services to local non-profit organizations.
"I feel fortunate to have joined Mature Services in time to share in this event," said Cathy Lance, new Director of RSVP. "I am inspired by our volunteers, and the amount of time and commitment they are willing to give in service of others," she explained. Lance brings to Mature Services her passion for non-profits, and her experience in working with seniors and advocating on their behalf. "We have a great group, and it is a pleasure to call attention to their good work," Lance added.
RSVP has reason to celebrate, because thanks to RSVP's 242 volunteers, organizations throughout the city received 26,966 hours of service during the 2013-2014 period. "RSVP became a part of Mature Services in 1982, and we have been proud to be a sponsor of this program," remarked Linda Valentine, Mature Services' President and CEO. "This is one of my favorite events, because it is important to thank these committed individuals, whose time and talents enable local agencies to better serve their clients."
This year's recognition event will have the added participation of keynote speaker Dorothy Jackson, well known community activist. She will present "Spring into Action," this year's theme. Throughout her career Jackson has made many contributions to the quality of life of Akron's residents, and is considered Akron's "goodwill ambassador." Although retired, she remains an active member of a number of local organizations, and continues to make a difference.
The event is being held at Guy's Party Center and is open to the public. "We hope others will come out to help us recognize the contributions they make," pointed out Lance. "It's always nice to know your efforts are appreciated." Tickets are $15.00 and available through Friday May 8 by contacting Valerie Henderson at 330-253-4597 x169.
Mature Services, Inc. is celebrating 40 years of serving older adults and providing high-quality programs to empower the economic, social, physical, and mental well-being of adults as they age. Information about the various programs can be found at http://www.matureservices.org or by calling 330-253-4597.