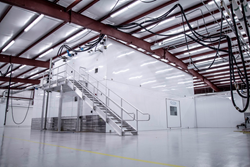 What was introduced and described last year during Interphex 2014 hasn't just been delivered, it's also been proven to work.
College Station, TX (PRWEB) May 05, 2015
GEA Pharma Systems, G-CON Manufacturing and Pfizer were announced last week as recipients of the INTERPHEX Exhibitor Awards for 2015 for Best Technology Innovation in recognition of their Portable, Continuous, Miniature and Modular (PCMM) platform. PCMM comprises a system that integrates a small footprint, continuous processing equipment, smart control systems and PODs (portable, self-contained GMP modules) to process API powders and inactive ingredients into bulk tablets.
PCMM is a result of a collaboration between GEA Pharma Systems, G-CON and Pfizer to develop innovative, next generation processing technologies for oral solid dosage (OSD) forms. Designed to address the rapidly changing requirements of pharmaceutical development and manufacturing, PCMM aims to meet the industry's needs for continuous processing in a flexible, self-contained manufacturing space. PODs, which can be rapidly deployed, are a cost-effective alternative to large, highly capitalized manufacturing facilities with fixed equipment and limited flexibility.
INTERPHEX, the premiere pharmaceutical and biopharmaceutical event dedicated to innovation, technology and knowledge, launched the Exhibitor Awards in 2014 to recognize cutting-edge technology and value added solutions that enable biopharmaceutical development and manufacturing companies to accomplish production goals and objectives.
"We are extremely gratified to have been given this prestigious award. Last year we talked about the project being underway and the plan for the megaPOD to be complete by this time. Through the dedication of the entire project team, this promise is now a reality," said Maik Jornitz, President of G-CON Manufacturing. "We believe that these small footprint efficient continuous systems will become the standard in the industry and that brick and mortar batch based systems will become a thing of the past. The PCMM project has shown that PODs will play a key role in driving next generation rapidly deployable manufacturing facilities," Jornitz added.
"The GEA project team is very proud to be a part this flagship industry project. The PCMM Consortium's visionary goals have been achieved by combining advanced technology and innovation. What was introduced and described last year during Interphex 2014 hasn't just been delivered, it's also been proven to work," said Richard Steiner, Business Development Manager at GEA Pharma Systems. H. McCoy Knight, National Sales Manager, GEA Pharma Systems, added: "To create the next generation of OSD processing technologies and address the rapidly changing requirements of drug manufacturers, we designed and built a portable, autonomous manufacturing environment for continuous OSD production using GEA's ConsiGma™-25 system and G-CON's modular POD system. Winning this award is welcome recognition for the effort and innovation that went into PCMM and clearly reflects excellence in pharmaceutical development and manufacturing."
PODs are designed for rapid construction and deployment. They can be disassembled and moved, allowing manufacturers to produce small batches of drugs exactly when and where they are needed. This first-of-its-kind system is expected to transform the future of pharmaceutical process development and manufacturing while providing the flexibility needed for in-country and small-lot manufacturing. Additionally, product development, clinical supply manufacture and commercialization will now all take place using identical processing equipment, simplifying process transfer, eliminating scale-up and significantly reducing API consumption during R&D.
A video showing the installation of the PCMM project can be viewed by clicking here.