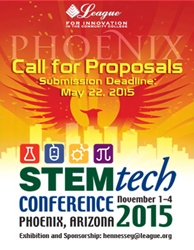 Chandler, AZ (PRWEB) May 06, 2015
The 2015 STEMtech conference exhibition hall floor plan is now open for League Corporate Partner booth selection. Don't miss this opportunity to highlight your latest products and services to community college and university decision-makers from around the country.
This year's event will take place November 1-4, 2015, at the Arizona Grand in Phoenix. This beautiful all-suite hotel is nestled in a private desert oasis on the doorstep of the South Mountain Preserve. The Phoenix area offers southwestern charm, world-class golf courses, restaurants with inspired cuisine, and stylish shopping centers to visitors, and is sure to be popular with conference participants.
STEMtech provides Partners with direct access to higher education faculty and administrators, K-12 representatives, government officials, and community and business leaders interested in STEM, analytics, metadata, advanced technology, and learning management architecture. Gain national exposure and build clientele by selecting your booth today!
Exhibitors should also consider one of the many available sponsorship and advertising opportunities and are strongly encouraged to submit proposals to present.
Only companies that are League Corporate Partners are eligible to exhibit, make presentations, or in other ways participate in the STEMtech conference. First-rate companies partner with us to make a meaningful difference in the way higher education institutions serve students. As a League Partner, your company will be affiliated with our network of over 800 community colleges and more than 160 outstanding corporate partners to become a major player in the community college market.
About the League for Innovation in the Community College
The League for Innovation in the Community College is an international organization dedicated to catalyzing the community college movement. The League hosts conferences and institutes, develops print and digital resources, and leads projects and initiatives with more than 800 member colleges, 160 corporate partners, and a host of other government and nonprofit agencies in a continuing effort to make a positive difference for students and communities. Information about the League and its activities is available at http://www.league.org.