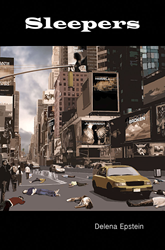 We've just made a giant evolutionary step into a new paradigm
Prescott, Arizona (PRWEB) June 02, 2015
On Thursday, April 13, 2017 at 7:01 a.m., a solar electromagnetic storm hits the Earth, disabling satellites and communications across the planet in an event that media dubs the "Occurrence". Dr. Janeen Corbett is a newly employed emergency room physician thrust into the role of sheltering and caring for over six thousand victims in Boston's tent cities after eleven percent of the world's population –, thirty-four million Americans among them -- fall into a dream-like coma.
Civil unrest follows and the United States military must deal with looting and mass chaos. Congress gives President Mitchell executive authority to regain control, while the Center for Disease Control (CDC) seeks to understand the mysterious coma state. Meanwhile Evangelist Nathaniel Long has waited for this day his entire life. He believes God has prepared him for the Apocalypse and that all the coma victims are spawns of the devil who must be eliminated. According to Long, these signs point to the book of Revelations, proof that the Lord has broken the Fourth Seal announcing his coming. Long encourages his followers to act upon his teachings by martyring himself, believing he will sit at the right hand of God. Brainwashed, his followers begin to kill the coma patients and then themselves.
The first coma patient to awaken spontaneously is Solomon, a one-year-old whose mother believes he is the Antichrist and must die. The CDC uses an experimental procedure to awaken nine other "sleepers" who gain consciousness to discover they have the power of telekinesis and telepathy. These test patients claim that those still in a coma are suffering great torment as they visualize a world in which their bodies must metamorphose to survive.
About the Author
Epstein lived in Indiana, Florida, Ohio, and California before settling down in the mountains of Prescott, Arizona, with her husband and Yorkies. Her one small claim to notoriety is that she is one out of 450,000 people with two different colored eyes. She has worked in a fast-food restaurant, as a data entry clerk, bookkeeper, technical writer, Web designer and programmer, systems analyst and most recently as a successful business owner. She is now living her lifelong dream of writing novels while observing the wildlife around her home. Delena is the author of seven other novels, for more information, please visit http://www.delenaepstein.com.
EDITORS: For review copies or interview requests, contact:
D.W. Publishing
Tel: 928-533-0169
Email: delenaepstein(at)delenaepstein(dot)com
(When requesting a review copy, please provide a street address.)