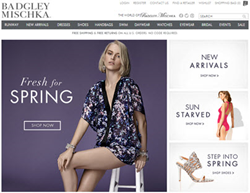 The GoECart solution levels the playing field for us and I recommend other companies take a serious note of GoECart
Bridgeport, CT (PRWEB) May 04, 2015
GoECart, the leading provider of cloud-based omni-channel ecommerce software for emerging brands and established retailers, today announced the launch of a dynamic new ecommerce web site, http://www.badgleymischka.com, on the GoECart platform. Thanks to an end-to-end solution that integrates back office functionality with rich merchandising, personalization, social media, mobile commerce, ease of use and much more, the new site is destined to become a vibrant online destination for glamorous, stylish and wearable evening wear and accessories.
Mark Badgley and James Mischka have been hailed by Vogue as one of the "Top 10 American Designers" and as the darlings of the Hollywood set. "Our style harks back to the glamorous Hollywood of the Forties," says Mischka. "The Badgley Mischka signature style is simple, streamlined and thoroughly elegant."
Although Badgley Mischka is widely recognized as the designers whose timeless designs appeal to a range of fashionable women, including celebrities such as Madonna, Catherine Zeta Jones, Jennifer Lopez, Sharon Stone, Jennifer Garner, Julia Roberts, Kate Winslet, Taylor Swift, Sarah Jessica Parker and Carrie Underwood, their Web site was underperforming due to the limitations their legacy homegrown ecommerce solution and on-premise order management system.
Specifically, the company had issues with website uptime and page load speed which resulted in lost sales and inferior brand representation. Their legacy systems had little or no reporting capabilities, unsatisfactory integration with promotional and transactional emails and their former providers sometimes took months to make the requested upgrades or changes which dramatically stifled growth and innovation. In addition to an ecommerce hosting provider and an order management system, the company had to further rely on many third party tools like Rating System for product ratings and reviews, SeeWhy (recently acquired by SAP) for abandoned cart re-marketing emails and Gigya for social login; the integrations between them were sub-par and required a lot of programming resources just to stay current. The GoECart solution on the other hand totally eliminated the need for these disparate third-party tools and complex integration, thereby improving customer experience and reducing costs at the same time.
GoECart helped the company to launch a new site at http://www.badgleymischka.com, which addressed all of the company's concerns and will enable them to bring their high fashion clothing and accessories to a wider range of customers, faster. With GoECart's free, frequent, and seamless software upgrades for life to rapidly fuel innovation, world class technical support and built-in marketing and promotional tools, Badgely Mischka is now positioned to grow their core of devoted customers and move to the forefront of high fashion digital commerce.
Fred Hord, Head of Ecommerce for Badgley Mischka says "Running the entire online business using a single unified commerce suite gives us unparalleled advantage that is usually only available to large billion dollar brands that have seven figure technology budgets and large IT departments. The GoECart solution levels the playing field for us and I recommend other companies take a serious note of GoECart."
For more information on how GoECart can help your business take the next giant step forward in ecommerce go here: http://www.goecart.com
To see Badgely Mischka's highly stylish and highly functional new web site go here: http://www.badgleymischka.com
About GoECart
GoECart provides a complete software suite, GoECart 360, which enables SMB merchants to manage all aspects of omni-channel commerce — from ecommerce, order and inventory management, in-store POS to marketing, merchandising, e-marketplaces, fulfillment and customer service. GoECart eliminates technology and integration hassles, allowing businesses to run better and grow faster. The feature-packed GoECart 360 suite was designed from the ground up to be modern and meet the needs of today's empowered and connected customers. Additionally, GoECart's cloud-based delivery model delivers on the rewards of software-as-a-service (SaaS). These include zero investment in infrastructure, no integration headaches, free upgrades, and affordable, pay-as-you-go pricing.