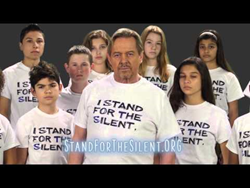 In the past seven years, over 55,000 children have taken their own lives because they were bullied--that's 22 youth suicides every day
Los Angeles, CA (PRWEB) May 04, 2015
In May of 2010, after two years of constant bullying, eleven-year-old Ty Smalley took his own life. In the wake of this tragedy, Ty's parents Kirk and Laura Smalley founded Stand for the Silent, an organization that exposes the grim reality of bullying and its devastating consequences. Stand for the Silent is also a platform for Kirk and Laura to share their story and offer education and tools that will hopefully prevent their tragedy from happening to another family — a mission that took the Smalley family all the way to Washington, DC for a private meeting with President Obama, regarding the first-ever conference on bullying.
To highlight the urgency of the bullying epidemic and to commemorate the five-year anniversary of Ty Smalley's suicide on May 13, 2010, Stand for the Silent is launching an anti-bullying PSA campaign, featuring WWE legend Roddy Piper. Its goal is to help raise awareness among parents and youth about bullying and bully-related suicides. Piper, an outspoken opponent of bullying, immediately volunteered to help Kirk and Laura Smalley's cause. The PSA is set to be released nationwide in late April.
"The numbers are staggering. In the past seven years, over 55,000 children have taken their own lives because they were bullied--that's 22 youth suicides every day", says Piper. "The goal of this campaign is to raise awareness about our global bullying epidemic. I'm counting on all my family, friends and fans to support Stand for the Silent. Together we can end bullying and save lives."
Since May 2010, Kirk and Laura Smalley have traveled to over a thousand schools and have spoken with more than 1,000,000 kids and teens. In March 2011, Kirk and Laura met privately with President Obama and the First Lady to discuss bullying before attending the first ever White House conference on this issue. The Smalley's story is prominently featured in the critically-acclaimed documentary Bully, directed by Lee Hirsch and distributed by The Weinstein Company.
According to Kirk Smalley, "The current statistics are shocking. One in every four kids in America will actually have a plan devised on how to take his or her own life before graduating high school. We have to find a way to continue spreading our message and make this stop." Kirk continues, "Laura and I are honored to have Roddy Piper on our team. His wrestling persona as a fictional bully and villain add a unique spin that make him a great champion for our cause. In contrast to the way he's depicted on TV, Roddy is a caring, loving parent and friend with a particular empathy for children. He's a man that wants to make a difference in this world. He's our hero."
The television and online spots urge viewers to get involved to end bullying and to visit standforthesilent.org to learn more about the prevention of bully-related suicides.
The PSAs are directed by Anthony Ruivivar (Banshee, Southland, Third Watch) and are produced by Adam Opitz and Shawn Laska of The Agency Advertising Group. The project is a collaborative effort of Roddy Piper, The Agency Advertising Group and Stand for the Silent. HD and SD versions of the PSAs are available upon request for broadcast, cable and online use.
:30 https://www.youtube.com/watch?v=E5XHGCroHjY
:60 https://www.youtube.com/watch?v=6KGxpEQMeB4
# # #
For interview requests please contact Adam Opitz, adam(at)theagencies(dot)net
MEDIA CONTACTS:
Kirk Smalley, CEO and Founder
Stand for the Silent
Email: kirk(at)standforthesilent(dot)org
Adam Opitz, Producer and VP Marketing & Sales
The Agency Advertising Group
Phone: (626)844-0022: Email: adam(at)theagencies(dot)net