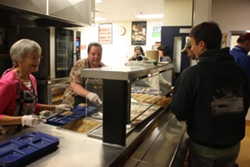 "The students benefit academically and nutritionally from Fish to School."
Cordova, Alaska (PRWEB) May 06, 2015
In this era of industrial food culture where many children don't have the opportunity to connect with their food, one school in Cordova, Alaska is bucking the tide. As the 2015 Copper River Salmon season opener approaches in mid-May, fishermen, processors and the community prepare for the arrival of the coveted fish.
Despite the pre-season hustle and bustle, members of the community took a lunch break last week to visit with 5th grade students at Mt Eccles Elementary School. This special luncheon illustrates one way the coastal Alaska community celebrates its connection to this sustainably harvested resource. The Cordova Fish to School Program is a collaborative effort between local non-profit organizations, Cordova School District, local processors and the commercial salmon fishermen.
Fish to School brings wild, locally harvested salmon into the Cordova School District with the goal of providing one salmon meal per week for every student in the district, K-12. Wild salmon is a nutritious, rich source of omega-3 fatty acids, which have been shown to increase academic performance.
During the Copper River and Prince William Sound salmon season, Alexis Cooper, Executive Director of Cordova District Fishermen United, works with local processors and tendermen to coordinate an opportunity where fishermen donate a portion of their commercially harvested sockeye salmon and send their fish to school. The donated fish are collected from participating processors then delivered to Copper River Seafoods and Trident Seafoods where they are commercially processed free of charge into fillets ready for use in the school lunch program throughout the year.
Additionally, the Copper River Watershed Project's Program Director, Kate Morse, works with 4-6th grade students to add an educational component to this community partnership. Students help to raise coho salmon in a classroom tank, assess local salmon habitat, and explore the role of salmon in Alaska's economy. Each spring, prior to the luncheon, 5th graders host representatives from the community in their classroom to learn about different jobs and how each connects to salmon. Linking students to adults in the community helps them make a personal connection to the role of salmon in their community. Bringing representatives from the community into the school helps to celebrate this innovative partnership.
According to Mt. Eccles Elementary's Principal, Gayle Groff, "The Fish to School program combined with the Copper River Watershed Project's salmon tank experience, brings the real world into our classrooms and give students a chance to make connections that will stick with them much longer than a passage in a textbook. With the important role salmon plays in Cordova, it is a natural topic for study here. The students benefit academically and nutritionally from Fish to School, and I believe the relationship is positive for the community members, as well. We are grateful for their generosity and interest."
For the small commercial fishing town of Cordova, Alaska, sending fish to school makes sense. The mainstay of the region's economy revolves around the salmon's return every summer, and this program is one way the community is able to celebrate its connection to the resource.