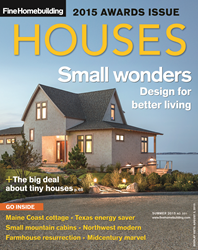 "The strength of these six award-winning homes is that they defy expectations. Every one, in its own way, sets a unique course" says Debra Silber, Fine Homebuilding's Design Editor.
Newtown, CT (PRWEB) May 04, 2015
These homes are published in the annual HOUSES issue and celebrated through extended photo galleries and inspirational design videos on Finehomebuilding.com/HOUSES.
The winners of the HOUSES Awards are chosen in six categories: Best New Home, Best Remodel, Best Small Home, Best Traditional Home, Best Energy-Smart Home, and Editor's Choice. This year's winners include a traditional home with a modern twist in Maine; a 239-year-old Pennsylvania fieldstone farmhouse; an iconic midcentury ranch in California; a zero-energy house in Texas Hill Country; a lakeside cabin in north Idaho; and an unpretentious but meticulously crafted residence on Washington's Orcas Island.
More on this year's winners:
Best New Home (pages 30-35): This year's best new home award is goes to architect Caleb Johnson of Biddeford, ME, for a home that successfully balances traditional expectations and contemporary demands. Johnson encapsulated an easy-going floor plan in a traditional cross-gable design, modernizing it with unexpected curves and discreetly placed openings. It adds up to a new home that challenges cherished architectural assumptions without abandoning its local vernacular.
Best Remodel (pages 36-41): San Francisco architect John Klopf earned top honors with his sensitive remodel of an iconic mid-century home built in 1964 by the developer Joseph Eichler. Klopf showed how it was possible to reimagine a home's aesthetic to match contemporary expectations while celebrating the enduring appeal of its original design.
Best Small Home (pages 42-47): This year's best small home, a 550-sq. ft. prefabricated cabin built in north Idaho, was designed by architect Emory Baldwin. Beyond its smart and flexible floor plan and its natural finishes, this award winner was chosen for its relevance. A stock design, this small dwelling aims to satisfy the housing needs of homeowners in an incalculable number of settings. It reinforces the idea that when done well, sound home design is universally applicable.
Best Traditional Home (pages 48-53): This year's winner of the best traditional home, partner Jeffrey Dolan of Period Architecture, Ltd., successfully fused modern necessities with exemplary craftsmanship worthy of this 1776 Pennsylvania farmhouse. Judges agreed that adapting a home built more than 200 years ago to the demands of contemporary living is hard enough; doing so while faithfully restoring the original spirit of the structure requires an exceptional understanding of traditional architecture as well as an unwavering commitment to the process.
Best Energy Smart Home (pages 54-59): The award for best energy-smart home goes to homeowners Tom and Peggy Kolnowski, who worked closely with their architect and builder to create a home that produces and conserves energy and resources while adhering to a reasonable building budget. Equipped with geothermal heating and cooling, solar panels, and a rainwater collection system, this Texas home borrows from the ground and sky to achieve net-zero energy use and complete water independence.
Editor's Choice Award (pages 60-65): This year's editor's choice award goes to a well-crafted new home on Orcas Island, WA, designed by Stoltz Kau Architects. Perched on a precipice 1200 ft. above sea level, this charming home is equally suited to its natural surroundings and to its owners' distinctive sensibilities, combining abundant windows for light and views with inviting nooks for a cloudy-day refuge.
To learn more about Fine Homebuilding's 2015 HOUSES Awards, including videos and extended photo galleries, please visit FineHomebuilding.com/houses. To submit a project for next year's HOUSES Awards, please check out the 2016 Call for Entries.
(Editors please note: Fine Homebuilding editors, the winning architects, and homeowners are available for interviews. To set up an interview or request images of the homes featured in the 2015 HOUSES issue, please contact Janèl Noblin at 203-304-3893, jnoblin(at)taunton(dot)com.)
###
About Fine Homebuilding
Fine Homebuilding is the largest and most trusted residential construction magazine in America and a nationally respected showcase of beautifully designed homes. A majority of readers are professionals who use the magazine as part of their livelihood and count on Fine Homebuilding as their building bible. Fine Homebuilding provides a range of design and construction ideas from across the country and a level of honest, practical information with a special focus on more affordable homes and projects that most people could tackle on their own homes. Fine Homebuilding is published eight times a year by The Taunton Press. To learn more please visit Fine Homebuilding at FineHomebuilding.com, on Facebook at Facebook.com/FineHomebuildingMagazine, or follow us on Twitter at @fhbweb.
Media Contact:
Janél Noblin
203-304-3893
jnoblin(at)taunton(dot)com