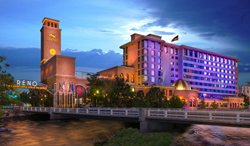 Reno, NV (PRWEB) May 01, 2015
As they say, "all good things must come to an end" but in the case of the Siena Hotel Spa Casino, the end is just the beginning. Grand Siena, LLC, the owner of the Siena Hotel Spa Casino, announced today that it has entered into an agreement to sell the property. The purchase is expected to be completed sometime this summer. The new owners' plans include a multi-million dollar renovation and a partnership with an internationally recognized hotel and resort brand.
There are no plans to interrupt hotel operations at the Siena during the ownership transition and all previously booked reservations, banquets and group events will be honored by the new owners. All existing employees will have the opportunity to interview for positions at the property. The Siena name will remain in the near term but a name change will be made to coincide with the completion of renovations and re-branding of the property.
About Siena Hotel Spa Casino
The Siena Hotel Spa Casino is uniquely Reno's only riverfront Hotel and Casino. The property is located conveniently on the outskirts of downtown Reno/Midtown and is within walking distance of entertainment venues, fine dining, museums, and other local attractions. The Siena has been named by TripAdvisor.com as a winner of their prestigious Certificate of Excellence Award for both 2013 and 2014.