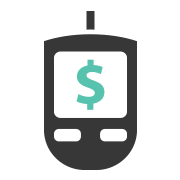 "We strive to give our members the most convenient, yet affordable experience in managing their blood glucose levels," CEO of Dollar Diabetic Supply. "Our quality products and cost effective program was designed specifically for that.
Memphis,TN (PRWEB) May 04, 2015
Along with a carrying case, free meter, testing strips, control solution, lancets, and lancing device, customers will find great deals starting at $6.99/Month with free shipping. For years, the diabetes industry has been controlled by the big drug companies, who push and market their diabetic supplies in the same fashion as their medications. They target diabetics inside of their doctor's office with efforts to get them on their products before they even have a chance to consider their options. Before they know it, they're trapped. They get stuck on an expensive brand meter and caught in a vicious cycle of buying ridiculously overpriced test strips on a recurring basis.
By now everyone knows who 'Dollar Shave Club" is. Dollar Diabetic Supply is the 'Dollar Shave Club' of the diabetes market. There is no commitment as members are able to join or cancel at any time. Another added bonus for DDS is that shipping is always free. From Walmart to CVS and Walgreens, Dollar Diabetic Supply offers it's members diabetic supplies at a cheaper value.. Dollar Diabetic Supply has emphasized that people are over paying for diabetic supplies, just because of the name of the brand. Dollar Diabetic Supply offers members the same quality diabetic supplies on the market that are required and approved by the FDA, at half the cost.
About http://dollardiabeticsupply.com/ DollarDiabeticSupply.com, Inc. a diabetic supply company based in Memphis, TN opened on the World Wide Web in April 2015 and today offers the most affordable selection in diabetic supplies. DollarDiabeticSupply.com, Inc. seeks to be the United States most customer-centric company, where customers can find and discover anything they might need when it comes to diabetic supplies, and endeavors to offer its customers the lowest possible prices. Dollar Diabetic Supply is the new revolution for controlling blood sugar levels. It offers products that are comparable in quality and for a fraction of the cost. Dollar Diabetic Supply buys in bulk and extends the wholesale prices down to their members. They believe that "No one should have to struggle financially to maintain their health, and welcome everyone who wants to take a stand against the big drug companies, making diabetes management more affordable and more accessible."
Visit us on Facebook at: https://www.facebook.com/dollardiabeticsupply