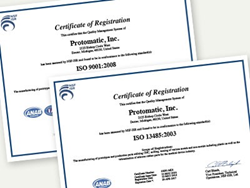 Dexter, MI (PRWEB) May 06, 2015
Accomplishments
Protomatic recently completed the internal audit and management review to stay up to date with ISO Audit Requirements. This activity is conducted annually and a formal certification is prepared. This certification is now available on the Protomatic website. This is proof that Protomatic's "First Party Audit Phase" has been completed and Protomatic has also completed their annual Third Party Audit which occurred in April, 2015. Following are brief definitions of the terminology regarding audits.
First Party Audit (Internal Audit)
First Party Audit is an evaluation of the entire Quality Management System (QMS) by typically trained internal staff that does not work in the department. The process involves a detailed evaluation of all business procedures. The output of this evaluation is a formal report that is submitted to Management Review. Management and the Quality Manager look for improvements and make corrections to procedures if required. Protomatic has taken this one step further and for the last few years has utilized qualified contractors to conduct the internal audit. This eliminated the cross-functional requirements and provided more experienced and trained staff to handle the internal audit.
Second Party Audit (Customer Audit)
Second Party Audits are performed by customers. They review what is important to supporting the customers' business interests. They are very detailed as related to the customer product requirements. These experienced teams quickly go over 70-80% of the QMS, focusing on the important elements. The cost of a Second Party Audit is expensive. It requires 1-2 man-days of off-site interviewing, then 1-2 days of report write-ups and evaluation, so Protomatic is proactive in providing proof on our website that the critical ISO annual audit was conducted and that other ISO requirements are being satisfied.
Third Party Audit (Registration Audit)
The Third Party Audit is managed by the independent registration body, traceable to the ISO registration board at http://www.IAF.nu. This audit is reviewing both adherence to the ISO standard with the company's procedure and that the company procedures are being followed.
Quality Management Systems are getting mature
Protomatic has been doing this for years. Protomatic established ISO-9001:1994 QMS in 1997 and acquired ISO 9001 designation in 1999. Every year ways are found to improve the system and that is why it is important. "Protomatic needs to aggressively improve the QMS because of new guidelines, but more importantly, to stay competitive for the success of all," said Doug Wetzel, V.P. and General Manager.
Do you want more info or need to schedule an audit?
Contact David Huschke, Quality Manager (DavidH(at)protomatic.com) at 734-426-3655.The ISO9001 certification of registration and ISO13485 certification of registration may also be downloaded from the Protomatic website.
Staying on top of and moving beyond the minimum ISO requirements keep Protomatic's quality and customer satisfaction high, leading to the Life-Saving Precision we promise.