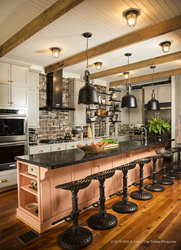 We are delighted to serve as lighting sponsor for House Beautiful's Kitchen of the Year for the second year and also contribute to the mission of the Junior League," said David Littman, founder and chairman of Littman Brands.
New Orleans, Louisana (PRWEB) May 02, 2015
Littman Brands, the parent company of Troy Lighting and Hudson Valley Lighting serves as the lighting sponsor in the 8th Annual House Beautiful Kitchen of the Year for the second consecutive year, which takes place for the first time in a private residence located in a 1860's home in the Uptown District of New Orleans. San Francisco-based designer, Ken Fulk lead the project which brought the Jenkins' home not only a new kitchen, but also a reconfigured family room, library and dining area.
Both of the selected brands offer a rich catalog of lighting fixtures that exude quality, high design and superb craftsmanship that can fulfill the most unique design inspirations. Troy Lighting and Hudson Valley Lighting are part of Littman Brands' decorative lighting brands, which also includes Corbett Lighting.
The 8th Annual House Beautiful Kitchen of the Year is open to the public as part of the Junior League of New Orleans' 10th Annual Kitchen Tour on May 2 and 3. This self-guided tour of 11 homes celebrates a decade of beautiful kitchens in Metropolitan New Orleans. This year's kitchen is the feature attraction of the Junior League of New Orleans' 10th annual Kitchen Tour, which allows tour-goers to explore the innovative design elements featured in the home.
Master designer Ken Fulk's creation honors the indigenous design elements of the historic city and redefines the kitchen as the new American living room. The design features a new, fully open kitchen which is integrated with a large family room and dining area. Salvaged carriage-house doors also connect the kitchen to a covered rear porch running the width of the house, and the adjacent parlor room is reinvigorated as a library and bar. More than 20 beautiful, quality Littman Brands fixtures are showcased throughout his design, spanning in style from vintage and industrial inspired to classic designs.
"We are delighted to serve as lighting sponsor for House Beautiful's Kitchen of the Year for the second year and also contribute to the mission of the Junior League," said David Littman, founder and chairman of Littman Brands. "Working with Ken Fulk to enhance his vision in this historical New Orleans home was an honor, and we are thrilled to experience the seamless integration of Troy and Hudson Valley Lighting's historically-inspired, classic fixtures into these beautiful spaces, representing how the right lighting can add serve as a functional art pieces throughout any design. We are confident that the homeowners will enjoy our quality, timeless designs for years to come."
Known for its "sophisticated casual" aesthetic and sculptural designs, Troy Lighting's one-of-a-kind fixtures are featured throughout Fulk's design. The main kitchen features three Hangar 31 pendants, composed of cast and spun aluminum with solid brass accents with a propeller-like shape and silver tones suspended from a 10" stainless steel aircraft cable; two Toledo indoor/outdoor rustic sconces with nostalgic flair, and six Acme flush mounts in solid aluminum with a clear pressed glass diffuser. In addition, Littman Brands' Hudson Valley Lighting's Kendall pendants, offering an interior interpretation of an vintage streetlamp or dock light, are hung in the vestibule. With designs spanning from elegant vintage to inviting modern looks, Hudson Valley Lighting creates tomorrow's classics today.
The library features Troy's popular Uni chandelier, a modern aesthetic with an explosive impact inspired by marine-life with hand-worked iron quills finished in tide pool bronze, while Habitat, a minimalist form accented by rich industrial detailing and a natural linen shade, imbues peaceful elegance in the family room. In addition, Hoboken two-light flush mounts add modern beauty with a timeless industrial aesthetic in the laundry area with rectangular panels of frosted safety glass that are encased in hand-worked iron finished in aged pewter. The porch also features hand-forged iron outdoor options including Sagamore classic lantern wall sconces and Campanile pendants with interplays of circles and swirls. The solid brass Nantucket pendant in charred iron and clear seeded glassware is also used in the powder room.
In addition to designing the Kitchen of the Year, Fulk also designed a "get the look" kitchen in the Junior League of New Orleans headquarters, which incorporates Troy Lighting's Habitat pendant as well as four Newton flush mount fixtures as part of his design. The redesigned kitchen will also be used as a place for Junior League activities that give back to the community and support the organization's mission to promote volunteerism, develop the potential of women and improve communities.
TICKET INFORMATION
The Kitchen of the Year, located inside the private home of Helen & Scott Jenkins at 4933 Camp Street in the Uptown neighborhood, is open to tour-goers on May 2 and May 3. Tickets may be purchased by calling 504.891.5845 or visiting jlno.org. For more information about House Beautiful's Kitchen of the Year, visit http://www.housebeautiful.com/KOTY or follow the hashtag #KOTY2015 on Twitter and Instagram.
About Littman Brands
Littman Brands is renowned for unique custom designs and high-quality lighting solutions for the residential, hospitality and contract arenas. Led by Founder and Chairman David Littman, whose family has maintained a key leadership role in lighting design for more than 85 years, Littman Brands is represented by four distinct brands: Corbett Lighting, Hudson Valley Lighting®, Troy Lighting and CSL® (Creative Systems Lighting). Each brand reflects an individual identity and specialization while maintaining the promise of uncompromising quality, expert craftsmanship and groundbreaking design. To learn more about Troy Lighting go to http://www.troy-lighting.com. To learn more about Hudson Valley Lighting go to http://www.hudsonvalleylighting.com. For media requests contact: DRS and Associates david(at)drsand associates(dot)com
Follow Littman Brands on Facebook at https://www.facebook.com/largerthanlight, Twitter https:/http://www.twitter.com/LargerThanLight and Instagram https://instagram.com/largerthanlight/.
ABOUT HOUSE BEAUTIFUL
House Beautiful (http://www.housebeautiful.com) is the leading authority on American home design and decoration, reaching more than seven million readers every month. Founded in 1896, House Beautiful is the oldest continuously published shelter magazine in the United States. Hearst Magazines is a unit of Hearst Corporation, one of the nation's largest diversified media and information companies. With 21 titles in the U.S., Hearst is the leading publisher of monthly magazines in terms of total paid circulation (AAM 2H 2014), reaching nearly 81 million readers in print (Fall 2014 MRI gfk) and nearly 44 million site visitors each month (comScore).