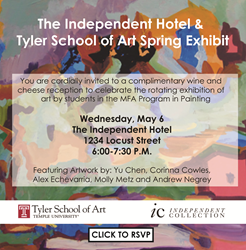 "Both the hotel guests as well as the hotel associates thoroughly enjoy seeing the young local talent on display at the hotel," said John Barsoum, general manager of The Independent Hotel.
Philadelphia, PA (PRWEB) May 04, 2015
The spring semester is winding down and five MFA students at Temple University's Tyler School of Art are preparing for one last exhibition before summer begins. Featuring recent paintings and drawings, this exhibition marks the fourth installment of the collaboration between the highly-ranked art school and The Independent Hotel, a Philadelphia boutique hotel located at 13th and Locust Streets. The collaboration gives the hotel a vibrant lobby and provides the students with some coveted Center City wall space.
"Both the hotel guests as well as the associates thoroughly enjoy seeing the young local talent on display," said John Barsoum, general manager of The Independent Hotel. "We especially love sharing the story of the art with guests in town visiting one of Philadelphia's many universities."
To celebrate this latest installation, The Independent Hotel is hosting a wine and cheese reception on Wednesday May 6 from 6:00 to 7:30 p.m. at 1234 Locust Street. The reception is open to the public, but RSVP is required. RSVPs can be submitted here.
The Independent Hotel, a 24-room Philadelphia boutique hotel, located at 13th and Locust Streets, began its partnership with Tyler School of Art in late 2013 and rotates the art biannually. All artwork is available for purchase and featured artists are MFA students in Painting at Tyler School of Art, an award-winning art school with a preeminent and highly selective drawing and painting program. Artists featured in this installation are Yu Chen, Corinna Cowles, Alex Echevarria, Molly Metz and Andrew Negrey.
Artists biographies:

Yu Chen constructs paintings and drawings in which layered grids of color create a network of complex compositions that reference the landscape, natural forms and systems of growth.
Corinna Cowles investigates the relationship between color, pattern, and material in quilt-like drawings. Her practice of working on paper with textiles allows her to explore connections between materiality, architecture and fashion, ultimately discovering or creating a language between patterns.
Alex Echevarria is exhibiting a painting on paper that is part of a recent group of drawings and paintings, which all deal with similar imagery: a looming foot and a colorful butterfly. This image is related to projects that elementary school children are given in art class. The folding action that creates the symmetry of the butterfly's wings has a relationship to painting in general but is also related back to education, procedure, and creativity within an institution.
Molly Metz works with the idea of describing space using limited information. Colors push forward and backward in space, creating a sense of depth and dimension.
Andrew Negrey showcases works from a series of paintings experimenting with sports "playing fields" as a form that occasions and structures a fluid, colorful and conflicted type of activity, drawing an analogy between sports and the activity of painting.
The Independent Hotel is managed by Philadelphia-based HHM, formerly Hersha Hospitality Management, has been a long-time supporter of Temple University. HHM has hired 16 Temple alumni in the last year alone and Jay H. Shah, Hersha Hospitality Trust's chief executive officer, is both a member of Temple University's board of Trustees as well as an alumnus, having graduated from the JD/MBA program in 1995.
About The Independent Hotel: The Independent Hotel is a stylish 24-room Philadelphia boutique hotel located in the heart of Philadelphia's Midtown Village — arguably the city's current cultural epicenter. The Independent Hotel offers guests a charming and intimate atmosphere, seamlessly intuitive service, well-appointed rooms and the perfect address from which to explore the city. Complimentary continental breakfast is delivered to your door and the hotel offers complimentary Wi-Fi throughout.
About The Independent Collection: The IC is a growing collection of cultivated and intimate lifestyle hotels located in unique residential neighborhoods of gateway cities across the US. Founded in New York in Tribeca and then Brooklyn, it has grown to Boston's West End, Midtown Village in Philadelphia, Washington's Capitol Hill and Georgetown, down to Miami's South Beach and west to Hotel Milo Santa Barbara across the last five years. This distinctive hotel concept is renowned for its authentic connection to the local communities, personalized service and residential comforts. Independent Collection hotels are created for the independently minded traveler and invite guests to experience the true spirit of the city.
About HHM: Formerly known as Hersha Hospitality Management, HHM operates 115 hotels across the United States. It provides turnkey hotel management, asset management and receivership for properties with leading brand affiliations through Marriott, Hilton, Hyatt, Starwood, and Intercontinental Hotel Group. HHM also operates 28 independent hotels ranging from The Rittenhouse Hotel, a AAA Five Diamond property in Philadelphia, to the Larkspur Landing hotels, all-suite extended stay properties in Northern California and the Pacific Northwest. Its highly experienced team is accustomed to serving as a fiduciary to publicly traded companies, joint ventures, institutional real estate owners and private investors.
About Temple University's Tyler School of Art: Since 1935, Tyler School of Art has offered students the combination of a world-renowned faculty and the resources of a major university. Tyler has grown from a small art school in Elkins Park, PA to encompass a wide range of programs in the study of art, design, art history, art education, and architecture all now located on the Main Campus of Temple University. In each program, students work in small learning communities, while also benefitting from the facilities, curriculum, and activities of Temple University. The Department of Painting, Drawing and Sculpture emphasizes art making as an ongoing discipline rooted in a rich history within a globally influenced, culturally diverse and technologically advanced world.