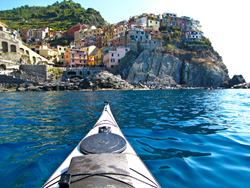 SALEM, Ore. (PRWEB) May 04, 2015
Veteran sea kayaking tour company Tofino Expeditions just released an incredible special offer on its fall trip Kayaking Italy: Cinque Terre and Sardinia. Adventure seekers can now save $500 per person on this award-winning itinerary to experience the very best of Italy via kayak. Avoid the horde of day-trippers on the Cinque Terre Train and steer clear of backpack-toting tourists along Via dell'Amore while you gain a whole new perspective on these amazingly vibrant villages from the waters of the Italian Riviera. Then journey into the heart of Sardinia, Europe's last great wild island, to discover the history, culture and gastronomy of this unspoiled natural world.
Kayaking Italy, an Outside Magazine's "Best Ocean Trips" 2013, is a dream vacation that explores two spectacularly scenic Italian regions and combines the best kayaking, scenery and food in the Mediterranean. Starting in Genoa, this trip takes you through the brilliant blue sea of the Italian Riviera to Cinque Terre National Park. Enjoy the vistas and savor subtle details as you paddle along the dramatic coastline, stopping to sample local cuisine and take short hikes through the vineyard-covered hills. In Sardinia, paddle island to island through crystal clear waters in La Maddalena Archipelago National Park, offering a mixture of spectacular beaches and seascapes with distinctive culture and character all its own. Swim in warm turquoise water, hike to ancient ruins dating back to the Phoenicians and dine on Sardinian fare at truly local, farm-to-table restaurants.
Founded in 1988 as a single fleet kayaking tour company, Tofino has grown into one of the top ranked international sea kayak outfitters and remains a family owned and operated company dedicated to quality, experiential adventures. Tofino offers expertly guided tours with a level of authenticity only achieved through true cultural immersion. Travelers will go beyond the surface to see and experience a world only known by locals, maintaining a real sense of discovery throughout their journey.
The next Kayaking Italy: Cinque Terre and Sardinia trip is Sep. 18-28, 2015. The $500 special offer won't be available for long and space is limited. For more information or to book the trip, visit http://www.tofino.com or call 800-677-0877. Also checkout amazing photos and highlights from Tofino tours on Facebook, Instagram and Pinterest.
About Tofino Expeditions
Founded by veteran adventurer Grant Thompson, Tofino Expeditions has guided commercial sea kayaking tours since 1988, making them one of the most experienced companies in the business. The company was among the very first to provide guided paddling tours of Vancouver Island's west coast, which is now a destination on the life list of paddlers around the world. The company guides trips along the world's finest coasts in Baja, British Columbia, Croatia, Brazil, Vietnam, Italy, and the Galapagos Islands. Tofino Expeditions' Kayaking Italy: Cinque Terre and Sardinia was an Outside Magazine's "Best Ocean Trips" in 2013 and the company was selected for National Geographic Traveler's "50 Tours of a Lifetime" in 2012, 2014 and 2015.