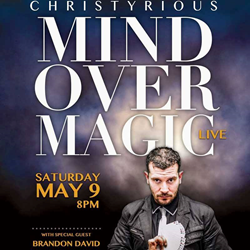 (PRWEB) May 03, 2015
The Zoetic Theater will be hosting Toronto Magician Chris Turchi on May 9, 2015. Also known as Chris 'Christyrious' Turchi amongst his fans, Chris is known for his unique style of magic and mind-blowing sleight of hand. In his career as a professional magician and entertainer, Chris has created many award-winning magic performances and shows.
Chris' magic shows are known by their easygoing nature and exceptional mastery of magic. Envy-lope, Quadrant, X-pand, and Devious are some of the most popular magic tricks created by this Canadian magician. Envy-lope is about a lonely lost card that is found from an envelope in the pocket of someone from the audience. His Quadrant trick is visually performed with an ordinary playing card box. Chris not only performs a super visual color changing box effect, but he also makes the box shrink, turns it inside out, and transform it into a completely different object before it completely disappears. X-pand is a handmade mechanical card gimmick where Chris performs visual miracles with a signed card. In Devious, Chris displays his ability to take an ordinary glass bottle and visually penetrate the neck of the bottle with a playing card, dollar bill, or a piece of paper.
As in most of the shows by Chris, mentalism, comedy, and stage illusions will be the major attractions of the magic show being held at the Zoetic Theater on May 9th. To book tickets for this upcoming show, please visit the Zoetic's event page.
Chris got inclined towards magic at the age of five when visited the Niagara Falls Houdini's museum. As he grew older, he understood who Houdini was and why he was so popular. Very soon, he became obsessed with Houdini and wanted to know more about magic and illusions. At the age of ten, he started performing card tricks and effects at school. By the time he was twenty-five, Chris had become the President of the International Brotherhood of Magicians Magic Club.
About Chris Turchi: Chris Turchi is one of the most popular magicians in Canada and the founder of Mind Over Magic Show. A magic freak since his childhood days, Chris is known for his unique style of magic and mind-blowing sleight of hand.