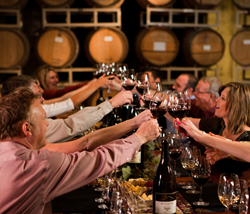 Temecula, CA (PRWEB) May 04, 2015
In Temecula Valley Southern California Wine Country meeting and event planners, and tour and travel operators discover true wine country venues, activities, and experiences. We introduce 12 ways for midweek groups of 20-to-50 people to relax, refresh, and recharge," announced Kimberly Adams, president and CEO, Visit Temecula Valley. "Temecula Valley resorts, hotels, and motels' special Sunday-through-Thursday, better-than-weekend nightly, group room rates for 10 guestrooms and more are also appealing." Welcoming 2 million visitors yearly, casual, picturesque, Temecula Valley is located 60 minutes from San Diego, Orange County, and Palm Springs; 90 minutes from Los Angeles.
Meet, Wine, and Dine Weekdays at Authentic Temecula Valley Winery Venues
With settings like terraces and courtyards with estate vineyard views, barrel rooms and wine cellars, Temecula Valley wineries are perfect for business, corporate, educational, incentive, tour, and travel events. Gracious, attentive winery staff help coordinate event components and award-winning chefs and culinary teams create custom-tailored menus.
Recharge and Relax Weekdays with Premium Varietal Activities
1-Vineyard and Winery Walking Tours
Escorted tours take participants amidst vines and behind-the-scenes to learn of seasonal activities and creative winemaking tasks. Inquire with 16 listed wineries and Robert Renzoni Vineyards.
2-V.I.P. Wine Tasting, Food and Wine Pairing
Tasting experiences are guided tastings; some include food-and-wine pairing (cheeses, appetizers, multiple-courses). Inquire with 16 listed wineries, Briar Rose, and Falkner.
3-Hot Air Balloon Flights at Sunrise
With A Grape Escape, California Dreamin', and Magical Adventures, groups float serenely over Temecula Valley with spectacular views of rolling hills and vineyards.
4-Tethered Hot Air Balloon Rides at Sunset
Offered by local hot air balloon companies, tethered rides accompany evening events and dramatic balloon glows.
5-Wine and Art: Painting Classes
Local artists guide students in creating hand-painted art works while tasting Temecula Valley wines; completed canvasses become keepsakes.
6-Wine and Live Music Events
Many Temecula Valley wineries feature weekly wine-and-live-music events. Winery venues and their local musician contacts are sources for festive, private, midweek wine-and-live-music events. Inquire with Baily, Bel Vino, Callaway, Danza del Sol, Europa Village, Falkner, Keyways, Leoness, Lorimar, Miramonte, Monte de Oro, Mount Palomar, Oak Mountain, Ponte, South Coast, Thornton, and Wilson Creek.
7-GrapeSeed Spa and Vino Vinyasa
GrapeSeed Spa at South Coast Winery features Vino Vinyasa - a "wine and unwind" yoga experience orchestrated with wine tasting.
8-Temecula Wine Country Golf Trail
Journey at Pechanga, Temecula Creek Inn, Cross Creek, Legends, Red Hawk, and Pala Mesa are popular with golfers of all skill levels.
9-Temecula Valley Agricultural Tours
At family-owned farms not open to the public (like Cunningham Organic Farm, Crows Pass Farm, and Morning Song Farm), group tours are by reservation.
10-Temecula Valley Microbrewery Visits
With award-winning microbrews like Blood Orange Wit, Illusion IPA, and Quadrophenia, the local craft-brew scene is a fun diversion.
11-Santa Rosa Plateau Ecological Reserve
Harboring rare California landscapes, Santa Rosa Plateau offers naturalist-guided, interpretive walking tours.
12-Historical Walking Tour of Old Town Temecula
Docent-guided walking tours feature stories and facts about landmarks and colorful characters.
*Information is believed accurate but may be subject to change. All group events and activities require advance reservations and arrangements.
ABOUT THE TEMECULA VALLEY AND VISIT TEMECULA VALLEY
With natural gifts of climate and geography, bolstered by Pu'eska Mountain, Rainbow, and Santa Margarita Gaps, Temecula Valley is recognized for scenic vineyards, award-winning wines, and gracious, friendly wineries as Temecula Valley Southern California Wine Country. The popular boutique destination includes the Temecula Valley A.V.A. (American Viticulture Area) as well as Downtown Old Town Temecula, Pechanga Resort & Casino, and the Temecula Wine Country Golf Trail.
Visit Temecula Valley is the region's official tourism marketing organization and an online resource for visitors at VisitTemeculaValley.com. Temecula Valley Visitors Center is located in Old Town Temecula (Third Street and Mercedes). For visitor information and assistance, call 888/363-2852 or 951/491-6085.