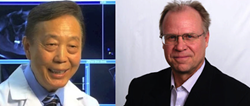 (PRWEB) May 02, 2015
Chao Pinhole Rejuvenation™, the minimally invasive treatment to correct receding gums in minutes will be featured with its inventor Dr. John Chao on the "San Diego Living" show on Channel 6. The show starts at 9:00 a.m. "Also appearing with me will be San Diego periodontist Dr. David Richards, who offers the procedure, also known as the Chao Pinhole Surgical Technique® in his practice," says Dr. Chao.
"Chao Pinhole Gum Rejuvenation™ is performed without the cutting, stitches and downtime required with conventional gum grafting," says Dr. Chao. "Instead, the entire procedure is done through one or more pinholes made in the gums." Using specially designed dental instruments patented by Dr. Chao the doctor frees the gum tissue and guides the gums down to achieve root coverage. "The pinhole quickly disappears and most patients report little or no pain and experience virtually no downtime," says Dr. Chao.
Dr. Chao is scheduled to appear in a series of TV shows across the country with doctors he has trained at the bimonthly Chao Pinhole Surgical Technique™ seminars in Alhambra, CA. "To date over 900 doctors from around the world have attended the courses at the Chao Pinhole Academy," says Dr. Chao.
The San Diego Living segment will feature Dr. Chao discussing how he was inspired to invent Chao Pinhole Gum Rejuvenation™ as an easier, less painful way to correct gum recession. Dr. Chao will narrate an animation showing how receding gums are corrected in minutes with the technique and Dr. Richards will discuss his results and patient's reactions when they learn they can have their gum recession reversed quickly and easily.
For more information on Chao Pinhole Gum Rejuvenation™ and training seminars for doctors, visit http://www.pinholesurgicaltechnique.com or call (888) 603-2953 to find a local provider.
For more information on Dr. David Richards and San Diego Periodontics visit http://www.sdperio.com