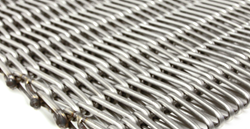 "What we developed is a controlled pre-treatment process where the belts undergo a series of heat 'soaks' to build a protective layer of natural oxidation on the surface of the wires." Tom Perdue, Cambridge Engineered Solutions
Cambridge, MD (PRWEB) May 05, 2015
Cambridge Engineered Solutions has introduced Knuckleback™ Platinum, a new woven T314 stainless steel conveyor belt used in the final sintering stage in powdered metal production lines that produce parts for automobiles, home appliances and other industries. Knuckleback Platinum's belt life is significantly extended through a pre-oxidation process that provides surface protection to prevent carbon build up in the furnace and along the edges of the belt.
The belt was developed in collaboration with Abbott Furnace Company, the leading manufacturer of continuous belt furnaces in North America. Field tests performed by the two companies have shown that the pre-treating process increases belt life by 25 percent and reduces operational down time for belt replacement by more than 18 percent. The belt is now available to other OEMs and powdered metal manufacturers.
Dr. Stephen Feldbauer, Abbott Director of Engineering and Technology, and Cory Bloodsworth, Cambridge Director of Business and Market Development, are co-authors of a white paper about the belt field test results: "Increasing Belt Life Performance and Maximizing Production Time in Powder Metal Sintering Operations." The paper will be presented at the 2015 International Conference on Powder Metallurgy & Particulate Materials, May 17-20 in San Diego
Metal belts are an ongoing cost associated with the operation of a continuous powder metal sintering furnace. Typically, their service life, depending on workload, is measured in months, according to Feldbauer.
"To perform optimally, they should be subjected to a break-in period of one to three days that soaks the belt as it slowly moves into the furnace," Feldbauer said. "Most manufacturers, however, can't afford the extended production downtime for a new belt to be pre-oxidized and installed. This results in a reduced service life."
Closely associated are issues with excess lubrication on powdered metal products. Often, manufacturers facing production deadlines are not able to give products sufficient time in the de-lube heat zone prior to the sintering stage. As a result, a portion of the soot (carbon) from the lubricants naturally develops and collects inside the sintering furnace. It is carried out of the unit due to the motion of the belt.
Carbon then forms on the edges of the belt causing embrittlement and eventually results in broken welds and frayed edges.
"With these issues in mind, Abbott came to Cambridge for a remedy," said Bloodsworth. "We have a long relationship working together to optimize products for the marketplace."
Tom Perdue, Cambridge Product Development Engineer, said the company's engineering team worked on and tested a solution for more than a year.
"What we developed is a controlled pre-treatment process where the belts undergo a series of heat 'soaks' to build a protective layer of natural oxidation on the surface of the wires," he said. "Field tests show this process can extend the average belt service life from 60 days to more than 75 days."
The process effectively replaces the desired break-in period that is not practical for most companies operating a powdered metal sintering furnace.
"The additional 15 days of average belt life means one to two less replacements per year for powdered metal manufacturers," said Bloodsworth, "which results in $15,000 to $20,000 in production uptime for a single sintering line."
Cambridge's Knuckleback belts undergoing the pre-treatment process are designated Platinum. The company introduced standard Knuckleback belts in 2014.
About Cambridge Engineered Solutions
A division of Cambridge International, Cambridge is the world's largest metal conveyor belt manufacturer and a global leader in filtration screens. For more than a century, Cambridge has developed dynamic solutions, revolutionizing industry automation and plant operations. With more than 15 exclusive product lines and over 50 patents, our team of dedicated engineers and experts continually devise new methods to make lines run smoother, faster and handle more product weight. For information visit http://www.cambridge-es.com.