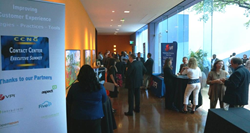 The format of Executive Summit is focused on hearing from other contact center executives...
Fort Worth, Texas (PRWEB) May 04, 2015
The 2015 Contact Center Executive Summit brings together CCNG members and experienced business leaders from across the industry to share proven strategies, perspectives and innovative best practices. Attendees will have a unique opportunity to benchmark with peers, refine programs, and explore new ideas.
Discussion leaders will share personal experiences and draw insight and perspectives from executive attendees. The event is two days of sharing with contact center executives and industry thought leaders tackling what has moved the needle for their organizations. Each day is packed with interactive sessions where participants review past initiatives and future plans, discuss insights and lessons learned, and offer benchmarks for comparison.
"The CCNG Executive Summit is very different from other professional conferences in that it is designed to maximize the attendees' time with other contact center professionals dealing with similar issues and challenges to your own. The format of Executive Summit is focused on hearing from other contact center executives to share and discuss case studies and our own best practices. The experiences I've had at the CCNG Executive Summits have been invaluable." - Matt Woody, Vice President - Consumer Care Contact Center, Fifth Third Bank.
Each day delivers cross-industry collaboration and dynamic problem solving with top pros and industry thought leaders. The agenda features:

Peer best practice presentations
Interactive discussion sessions
Peer panels and attendee directed open discussion forums
Critical networking time throughout the event
Sponsoring partners showcase and reception
A private interactive tour of the Design Zone exhibit for all attendees!
Topics planned for discussion include:

Innovative Performance Management Programs
Leadership and Development Approaches
Cross-Channel Service Continuity
Self-Service in an Omni-Channel World
The Right Way To Right-Channel
Evolving Analytics: Speech, Text, Data, Desktop, and More
Next Up! Knowledge Management
And more ...
"I had a great time and it was extremely valuable insight into what other companies are doing … this event gave me a lot of ideas on how to improve our customer experience." - Joe Burda, VP of Operations, Santander Consumer USA.
This year features six key CCNG partner companies to sponsor the event including Aspect Software, inContact, OpenSpan , Intradiem, Vocalcom and Five9. CCNG partner information can be found on the CCNG web site, Resource tab.
"The CCNG Executive Summit is a great opportunity and venue to meet with industry peers and industry sponsors to discuss hot topics. I always walk away with best practices that others have shared and can leverage within my organization." - Lynn A. O'Neill, Corporate Vice President, Service Organization, New York Life Insurance Company.
For details on how to attend or present in future CCNG executive or mid-level management events, contact Michelle Porterfield, mporterfield(at)CCNG(dot)com.
View program details for all CCNG events on the CCNG web site, Events tab.
CCNG International Inc.
Founded in 1992, CCNG International Inc., CCNG is a member Professional Peer Network (PPN) for Contact Center, Customer Experience and Customer Service Executives, Managers, and Leaders.
By joining the CCNG Member Network, experienced industry professionals:
Connect – interact and engage with your peers,
Collaborate – discuss best practices and problem solve,
Contribute – share your own experiences and expertise.
All Call Center, Contact Center, Customer Care, Customer Service, and Customer Experience Professionals are invited to participate in the CCNG Member Network. For more information about the CCNG Member Network, please visit CCNG.com, "Like" us on Facebook, and follow us on Twitter - @CCNGNetwork.