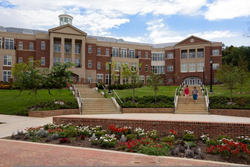 "Our MBA program focuses on analytics and innovation which provides our students with a marketable advantage over their peers in this global economy." - MBA Director Stacey Turmel
RADFORD, VIRGINIA (PRWEB) May 04, 2015
Radford University's College of Business and Economics announced the launch of online delivery for their MBA program. This initiative will make higher education even more accessible for students who wish to secure their master's degree in approximately two years. Radford's MBA program is AACSB accredited, which represents the highest standards for business schools. In fact, only 5% of business programs globally are able to secure this accreditation.
Students who are balancing work and/or family can appreciate the online delivery, which offers affordability, convenience and flexibility.
Radford University has been named one of the best business schools in the United States by The Princeton Review for the last four consecutive years (2012, 2013, 2014 and 2015), and offers one of the most competitively priced MBA Programs in Virginia.
"The online delivery of the MBA we offer at Radford will be very attractive to ambitious young professionals looking for a competitive advantage as they seek for ways to advance their careers." – COBE Dean George Low.
"Our MBA program focuses on analytics and innovation which provides our students with a marketable advantage over their peers in this global economy."

MBA Director Stacey Turmel.
About Radford University
Radford University was established in 1910 and today offers 67 degree programs at the undergraduate level, 21 masters programs (including the MBA) and three doctoral programs at the graduate level. Radford University is one of Virginia's 8 doctoral degree granting public universities. In late 2012, the College of Business and Economics relocated to its new $44 million, 110,000 square foot, technology-rich, signature building.
Contact:
Stacey Turmel, MBA Program Director
Phone: 540-831-6905
Website: http://www.radford.edu