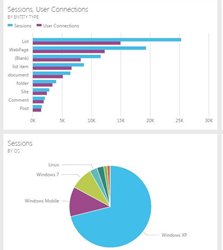 Boston, MA (PRWEB) May 03, 2015
Intlock, developer of CardioLog Analytics, today announced the debut of their integration with Microsoft Power BI and Excel. The CardioLog Analytics integration with Microsoft BI allows for the visualization of Cardiolog Analytics through new live and interactive dashboards, to enhance SharePoint as well as overall business performance and monitoring.
With Power BI integration, enterprises are able to easily create their own dashboard reports, filter the information, and slice and dice the data accordingly. By creating CardioLog's dashboards with the Power BI Solution, stakeholders and administrators can get a holistic view of business activity and search through it, all in one glance. Integration of these two solutions results in seamless accessibility and easy-to-use dashboards that allow for intuitive monitoring and analysis. The reports are flexible and visually pleasing, with over dozens of different visualization reporting options. The ability to effortlessly connect to CardioLog data is invaluable for monitoring the KPI that matters most whenever, wherever, and on any device.
The Intlock team will be demonstrating the CardioLog Analytics integration with Microsoft Power BI at Microsoft Ignite at booth #541 in Chicago, May 4-8th 2015.
About Intlock
Intlock was founded in 2005. Ever since, it has been a leader in analytical solutions for SharePoint Intranets and Internet websites. As the company's flagship product, CardioLog Analytics set Intlock apart and put it ahead of the competition. CardioLog provides organizations with insights on how their SharePoint portal is being used, and helps optimize the portal. As organizations started to expand, so did the use of SharePoint to public facing websites. A demand grew for marketing tools designed for SharePoint, which lead to the release of the SharePoint Marketing Suite, which includes a wide range of marketing solutions for enterprise-level websites.
Today, Intlock products support all of the SharePoint versions, including the new 2013 edition. They offer a variety of insightful features and tools to help optimize portal and site productivity, as well as maximize the ROI.
Intlock, based in Boston, Massachusetts, has offices and partners throughout the world. Some of the customers utilizing these products are large worldwide enterprises such as Applied Materials, Fidelity Investments, and US Department of State. Intlock also offers a variety of packages for small business and NGO's.