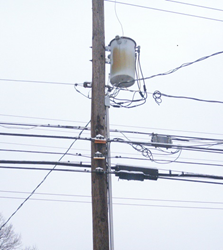 I see MapSight quickly becoming an industry standard approach for joint use projects, says Richard Hickey, Chief Compliance Officer of First Light Resources
Broomfield, CO (PRWEB) May 04, 2015
ikeGPS (NZX:IKE) is experiencing increased adoption of its GE MapSight™ pole data collection solution from US-based Electric Utilities, Telecom providers, and Engineering service firms who need to address joint use challenges. Joint use is the common practice of a utility pole owner allowing third parties such as a telecom providers to collocate equipment on a utility pole. The continual growth of new attachment permit requests combined with increased regulatory oversight are driving demand for improving efficiency, accuracy and safety for a variety of joint use related applications.
"MapSight is a proven solution for pole data collection and inspections, and it's quickly becoming an invaluable instrument for joint use permitting and compliance", says ikeGPS Director of Sales for the Americas, Mike McGill. "Traditional and new ikeGPS customers are using MapSight to address Public Utility Commission compliance, new Fiber-optic attachment permitting processes, NESC standards, and many other joint use requirements. In California specifically, MapSight is being utilized by some of the largest and smallest Utilities to reduce GO-165 compliance costs and by network operators deploying residential Fiber."
ikeGPS recently joined the UtiliSite organization, an independent operating unit of the Utilities Telecom Council (http://www.utc.org) that supports utilities by providing learning and collaboration opportunities that impact wireless collocation as well as joint use/pole attachments.
"Telecom companies or their Engineering service providers can streamline the permit and as-built processes with MapSight," says Richard Hickey, Chief Compliance Officer of First Light Resources and Associate Member of UtiliSite. "MapSight can also dramatically reduce pole inspection and joint use audit costs for installing fiber, distributed antenna systems (DAS), and small cells. I see MapSight quickly becoming an industry standard approach for joint use projects."
"MapSight's customizable forms ensure our teams collect field data in a standardized format that promotes efficiency and accuracy. This eliminates the need to send teams back into the field to capture information that was overlooked or missed," says Phil Carroll, Vice President at Finely Engineering. "Exporting the MapSight pole data into our engineering software without manual data entry enables us to avoid human error and streamlines our processes."
ikeGPS will be exhibiting and demonstrating the GE MapSight solution at the following upcoming industry events:

UTC Telecom & Technology, Atlanta, GA. May 5-8
UtiliSite Seminar: "Pole Attachments: A Collaborative Approach to Maximizing Revenue". Atlanta, GA. May 7
Heartland Group Spring Meeting. Akron, OH. May 12-13
America Public Power Association (APPA) Engineering & Operational Tech Conference. Sacramento, CA. May 17-20
America Public Power Association (APPA) Public Power Expo. Minneapolis, MN. June 8-9
For additional information on GE MapSight, visit http://www.gemapsight.com.
About ikeGPS
ikeGPS' mission is to revolutionize every measurer's day. Its field data collection and asset management solutions have been adopted around the world and are used in in a variety of industries including Utility, Telecom, Government/Defense, and Engineering. The Company has a Trademark Agreement with General Electric and markets its Electric Utility solution as GE MapSight.
ikeGPS' global sales and marketing headquarters is based in Colorado USA. IkeGPS Group Limited is listed on the main board of the New Zealand Stock Exchange under the stock symbol IKE.
GE is a trademark of General Electric Company and is under license by ikeGPS Ltd, 42 Adelaide Road, Wellington 6021, New Zealand.
About Finley Engineering
For over 60 years, Finley Engineering has been a leader in the design, engineering and construction of broadband, communications and electrical power systems. Finley has over 250 employees located in 11 offices throughout the U.S. and is a multi-disciplined organization offering professional engineering, project management, surveying, mapping, environmental and right-of-way services to the electric power transmission and distribution, gas pipeline, telecommunications, broadband and related industries.