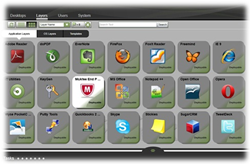 With today's announcement, Unidesk becomes the first and only solution to streamline management of remote Windows desktops and applications in both private and public clouds.
Chicago, Illinois (PRWEB) May 04, 2015
Unidesk Corporation, a leading provider of desktop and application management software for the cloud, announced today at Microsoft Ignite that it has extended its layering technology – known for streamlining management of Virtual Desktop Infrastructure (VDI) – to provide fast, flexible deployment and management of Microsoft Remote Desktop Session Hosts (RDSH) on Microsoft Hyper-V and Microsoft Azure. IT organizations can now provision RDSH servers in private and public clouds from reusable operating system and application "layers" that only need to be installed and updated once. Service providers and enterprise IT organizations can use Unidesk to greatly reduce the operational costs traditionally associated with installing, patching and retiring hosted desktops and applications, even as user bases scale to thousands of sessions.
Layering Innovation Simplifies Desktop and Application Publishing
Microsoft RDSH is a popular way to publish a Windows desktop or application to many users. The desktop or app is hosted on a Windows server – the session host – and many users can remotely login to the server from any endpoint device for access. Unlike VDI, where every user has their own virtual desktop, RDSH shares a single desktop or application instance among many users.
Managing application lifecycles across RDSH server farms, however, has been a challenge for IT. If all apps are installed on every server for uniformity and interoperability, the duplicate "images" create extra work for the administrators who need to keep Windows and apps up to date. If "silos" are created with fewer apps on each server, or if application virtualization is used to isolate applications in separate containers, apps can no longer interoperate and duplicate copies of Windows must still be patched.
Unidesk's new support for managing RDSH servers overcomes these challenges. Unidesk virtualizes the Windows operating system and applications as read-only virtual disks, or "layers." IT administrators can provision and update session hosts in Microsoft Hyper-V or Microsoft Azure simply by selecting a Windows OS layer and any combination of app layers. Unidesk composites the layers into logical C: drives for each session host, enabling new applications, application updates and Windows patches to be delivered to an entire RDSH farm without ever being installed. Unlike traditional application virtualization, layering is fast and easy, works for all apps and Windows itself, and delivers apps as if they were locally installed – not isolated – for full interoperability.
"Unidesk's innovative layering technology takes the delivery and the management of Windows session hosts in Microsoft Hyper-V and Microsoft Azure to a new level," said Andrew Conway, Senior Director, Microsoft Enterprise Mobility. "We are excited to see Unidesk bring great new capabilities to businesses and service providers of all sizes that are deploying remote desktops and apps with Microsoft RDSH."
Unidesk Features and Benefits for RDSH
Unidesk has already been selected by more than 1,000 enterprises to streamline management of VDI. Unidesk now brings these proven capabilities to Microsoft RDSH:

Application layering: Deliver applications to any number of session hosts from a single installation point as shared, read-only virtual disks; layered applications look and feel as if they are locally installed for full interoperability.
Windows OS layering: Deliver the Microsoft Windows Server 2012 R2 operating system as a read-only virtual disk that can be assigned to all session hosts as a base OS layer; eliminates image duplication and management silos for patch-once simplicity.
Session host provisioning: Create custom RDSH virtual machines on Hyper-V or Azure quickly and easily by assigning OS and application layers in any order or combination.
Microsoft RDS integration: Create and manage session host collections directly from the web-based Unidesk Management Console, eliminating the need to write PowerShell scripts to scale RDS. View, sort and manage virtual desktops and session hosts through Unidesk's graphical interface.
Availability
Unidesk support for RDSH on Hyper-V and Azure will be available in Q2 2015 through Unidesk Solution Partners. Trial versions of the software can be found at http://get.unidesk.com/trial
"With today's announcement, Unidesk becomes the first and only solution to streamline management of remote Windows desktops and applications in both private and public clouds," said Don Bulens, Unidesk CEO. "Our layering innovation replaces application lifecycle and image management complexity with Imageless Management simplicity and efficiency. Service providers and enterprises looking to publish applications and desktops through shared sessions on Hyper-V or Azure now have another great reason to choose Unidesk."
Presence at Microsoft Ignite
Unidesk will be demonstrating the new support for RDSH on Hyper-V and Azure in Booth #344 at Microsoft Ignite. Attendees will be able learn from their IT peers how Unidesk brings desktop and application simplicity to any cloud in these customer-led booth presentations:

"Reducing the Cost of VDI with Unidesk and Hyper-V," Hamilton County, IN
"Ensuring End User Satisfaction with VDI and BYOD," Trek Bicycle Corporation
"Scaling VMware Horizon with Unidesk in State & Local Government," Montgomery County, PA
"Confessions of a Former VM Hater," Amdocs
"Getting Time Back in Your Day with Citrix XenDesktop & Unidesk," WS Nelson & Company
About Unidesk Corporation
Unidesk enables customers to simplify and scale the management of Windows desktops and applications in the cloud. With Unidesk layering innovation, IT organizations can deliver applications and update Windows with ease, while offering the personalization and support that delights end users. Unidesk's open solution manages virtual desktops and multi-user Windows session hosts; supports Microsoft Hyper-V, Microsoft Azure and VMware vSphere cloud platforms; and integrates with leading connectivity solutions including Citrix XenApp/XenDesktop, Microsoft VDI/RDSH and VMware Horizon. Unidesk is a privately held company headquartered in Marlborough, Mass., with authorized solution partners around the world. For more information, visit http://www.unidesk.com.