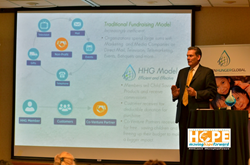 "We began with the mission to save the lives of children, but wanted to create a model that was both efficient and sustainable." - Duncan Dodds, CEO of Hidden Hunger Global, Inc.
Dallas, Texas (PRWEB) May 05, 2015
Hidden Hunger Global, Inc., launched this week, highlighted by a special event held at the Hilton DFW Lakes Executive Conference Center, in Dallas, Texas.
Hidden Hunger Global is a "for-profit company on a mission". Its innovative, social entrepreneurial business model, uses the power of network and cause marketing to make an impact in key social issues that are effecting children and families around the world.
"We began with the mission to save the lives of children, but wanted to create a model that was both efficient and sustainable. Using the power of network marketing and tapping into the influence we all have in relationships, allows HHG to make a significant impact in the lives of children and, at the same time, provide individuals and families the opportunity to earn extra income. With HHG you can help improve your family's life, while helping those that are unable to help themselves – What can be better than that?" said Duncan Dodds, CEO of Hidden Hunger Global, Inc.
Hidden Hunger Global sells Child Saving Products through its member driven organization and distributes in cooperation with Co-Venture partners around the world. These Co-Venture Partners include small ministries like Matanya's Hope that cares for 1500 children in Kenya, to organizations like GAIN (Global Alliance for Improved Nutrition), who are in over 80 nations of the world.
HHG's Child Saving Products (CSP) are designed to address three critical needs facing children and families in third world countries. With over 2 billion people in the world suffering from malnutrition, their micronutrient product provides 15 essential vitamins and minerals necessary for developing a productive and healthy life. Over 800 million people do not having access to safe drinking water. HHG's portable water purification system provides a community up to 150 gallons of safe, clean drinking water each day. Malaria alone cases the death of over 700,000 children under the age of 5 every year. HHG's LLIN Mosquito Nets provide protection against life threatening airborne diseases.
The model is simple. Hidden Hunger Global Members sell these CSP's, which are then donated on behalf of the purchaser to humanitarian organizations and delivered to at-risk children at the point of need. Members can enroll other members to be a part of HHG and earn commissions on every sell made by them and their team.
"This is a business model that will positively impact the health and lives of children all over the world as well as benefit families right here in our community." said Jeff Audas, Executive Vice President.
HHG's unique approach provides multiple benefits. It allows its members to earn additional income through selling Child Saving Products. HHG's customers receive a "gift in kind" donation for their purchase, and the satisfaction of knowing their purchase is helping someone in need. CSP's are being donated to various humanitarian organizations globally for free – allowing these organizations to reallocate funds previously used to purchase these products to other life changing initiatives.
The impact of Hidden Hunger Global's efforts is expected to be substantial. They have already delivered over 33,000 CSP's during a soft launch in 2014. They are already anticipating delivering 3 million of their micronutrient product to a project in Kenya this summer.
For more information on Hidden Hunger Global, Inc., visit http://www.hiddenhungerglobal.com