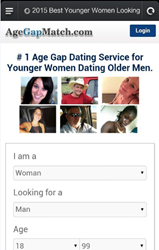 AgeGapMatch.com - # 1 Age Gap Dating Service for Younger Women Dating Older Men.
USA (PRWEB) May 05, 2015
Popular 'age gap dating' site AgeGapMatch.com recently introduced the mobile version of its website. Since its inception in 2012, this website has managed to gain the appreciation of both users as well as critics from across the globe.
A representative of the website said, "The main objective behind the launch of a dedicated mobile version of our site is to give users the convenience of accessing our services by visiting m.Agegapmatch.com via mobile phones. Given the fact that a lot of users access the web through portable devices such as tablet computers and smartphones, it had become essential for us to take this step. We have kept things pretty simple and straightforward so that every user can take advantage of all the available features on the website. Also, the number of younger women looking for older men has increased significantly over the years."
According to the International Telecommunications Union, about 74 percent of all the users access the web through mobile devices. New York based analyst and dating expert John Williams said, "In the near future, we may see more and more users accessing dating sites through their smartphones. Data charges have witnessed a significant drop in the recent years and as a result of this more people are able to afford mobile internet."
The mobile version of AgeGapMatch.com encompasses all the critical features that are available on the desktop version of the website. Standard membership is absolutely free of cost but for those looking to unlock the complete set of features, upgrading is mandatory. Registered users can take advantage of the built-in email client as well as the instant messenger. Users can also get in touch with a dating counselor in order to learn about the tips and tricks of online 'age gap' dating.
For more information, please be sure to visit : http://www.AgeGapMatch.com ®