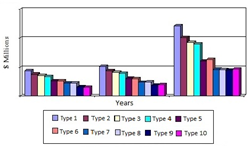 The global market for optical switches is expected to reach $7.2 billion in 2019
Wellesley, Mass. (PRWEB) May 04, 2015
The proliferation of Internet, e-commerce, multimedia applications, and telecommuting has caused an explosion in data traffic, which is estimated to be growing at 30% to 50% annually. BCC Research reveals in its new report on optical switches, the market is expected to grow from more than $2.8 billion in 2013 to more than $7.2 billion in 2019, at a CAGR of 17% from 2014 through 2019.
Data communication networks around the world have switched to using the optical fibers owing to escalating demands for bandwidth. This is a result of the exponential increase of the data traffic due to rising social networking, cloud computing, and usage of mobile devices. With big data and cloud services gaining importance, companies need to have both technical and applied skills to monitor and scrutinize large samples of data.
Microelectronics mechanical optical switch (MEMS) together with the mechanical optical switch will command a market share of more than 23% in the overall optical switches industry. Of all the optical switches, MEMS currently dominates the overall market with a share of 29.9%, closely followed by wavelength optical switches with a share of 13.7%. Fiber Bragg grating-based switches are anticipated to grow at the highest compound annual growth rate (CAGR) of 18.9% during forecast period.
"Recently optical switches have gained a wide range of popularity in the telecommunications sector and for other communications purposes," says BCC Research analyst Sinha G. Gaurav. "But with innovative research and development, optical switches can play an important role in the development of many new processes. Such processes include development of voice and data communication with low cost and high speed over long distances."
With more research and development for the next generation switching process, optical switches can provide wide spread deployment of technologies to add sufficient capacity in support of heavy long traffic haul. Also with an increase in usage, they will help improve the bandwidth efficiency as well as decrease the cost and power consumption of next generation optical switching.
Optical switches carry higher quantities of data compared to copper networks and thus brought a revolution in the telecommunications' industry in the early 21st century. With lower cost and improved efficiency, optical switches are the key to managing dense wavelength division multiplexing.
Optical Switches: Technologies and Global Markets analyzes factors currently driving and restraining the growth of the market, as well as issues impacting the future of the industry.
Editors and reporters who wish to speak with the analyst should contact Steven Cumming at steven.cumming(at)bccresearch(dot)com.
About BCC Research
BCC Research publishes market research reports that make organizations worldwide more profitable with intelligence that drives smart business decisions. These reports cover today's major industrial and technology sectors, including emerging markets. For more than 40 years we've helped customers identify new market opportunities with accurate and reliable data and insight, including market sizing, forecasting, industry overviews, and identification of significant trends and key market participants. We partner with analysts who are experts in specific areas of industry and technology, providing unbiased measurements and assessments of global markets. Recently selected as the world's greatest market research company, BCC Research is a unit of Eli Global, LLC. Visit our website at http://www.bccresearch.com. Contact us: (+1) 781-489-7301 (U.S. Eastern Time), or email information(at)bccresearch(dot)com.