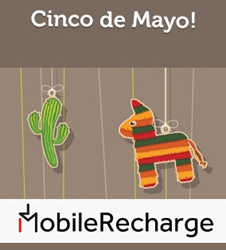 De total fiabilidad. Lo llevo utilizando desde hace más de dos años y nunca he tenido el más mínimo problema, es rápido, seguro y muy fiable. (Fernando Alfaro on Trustpilot.com)
Atlanta, Georgia (PRWEB) May 06, 2015
Mexicans around the world can top up their Mexican fellows' mobiles after Cinco de Mayo as well, in less than 1 minute. This option is available on MobileRecharge.com and is useful for all those who didn't have the chance to send a gift on Cinco de Mayo. The team behind the website reminds all Mexican expats that this is a good occasion to send a mobile credit load home: http://mobilerecharge.com/buy/mobile_recharge
Also, MobileRecharge.com invites all Mexican expats and their family and friends for a virtual gathering on Google+ and Facebook also after the Cinco de Mayo personal celebrations. This is meant as a good place and time to share thoughts on how they all spent Cinco de Mayo and meet other Mexican expats. All Mexicans are welcome at https://www.facebook.com/MobileRecharge to share feedback, impressions and photos from their Cinco de Mayo party.
Cinco de Mayo is celebrated proudly by all Mexicans in the USA and Mexico, and MobileRecharge.com works closely with and for the Mexican communty too. That is why MobileRecharge.com celebrates Cinco de Mayo bringing together both Mexican expats and their families back home.
Those interested to send online mobile credit should know that the ordering form is simple and available at http://mexico.mobilerecharge.com/buy/mobile_recharge. The top up applies instantly, and is hassle free in terms of time and money. The only condition to send mobile credit is to have a free account on MobileRecharge.com.
This is a great occasion for Mexicans outside Mexico to send mobile credit as a fast gift. Again, it only lasts 1 minute at most. Mobile credit can be sent to mobiles pertaining to Telcel, Movistar, Unefon, Iusacell and Nextel.
On the other hand, those who usually call Mexico have now a good reason to try a new service: sending a gift home to Mexico as mobile credit top up. During the weekly promotions the credit adds a Bonus that amounts up to 700% extra credit sometimes. And according to the operator in Mexico, the credit can be used in different ways by the friend or family member who receives it. Some offer data and local calls, others only local calls or in-network calls, or internet calls plus local calls, and so on. Telcel, for example usually offers National Internet Browsing and calls on net. The local operator is the only one who can inform correctly on the type of credit received.
Here are the main things customers love MobileRecharge.com for:

1 minute purchase
value for the money and the best deal on the market in terms of amount sent - amount received
24/7 customer service in English and Spanish
100% safe website for Mexican expats; certified by Truste and BBB
safe payments, no matter the currency
all major cards accepted as well as PayPal
invoices and activity available in the online account
daily promotions worldwide
weekly promotions for top ups to Mexico mobiles
easy-to-use app for iOS and Android, called MobileRecharge
Many MobileRecharge.com users stay updated with promotions on its social media channels:

For those who are new to the service, more details are comprised in the videos on the YouTube channel of MobileRecharge.com: https://www.youtube.com/c/MobileRecharge
MobileRecharge.com facilitates online mobile credit tranzactions sent to Mexico on Cinco de Mayo, plus it invites everyone to join the celebration on Facebook and Google+ and meet other Mexican expats and their families.
About MobileRecharge.com
MobileRecharge.com is an interactive website designed by KeepCalling, a global telecommunications company registered in 2002 in USA. From the get-go, MobileRecharge.com focused on creating an easy to use website and an easy to order service, succeeding to grow very fast. Presently, KeepCalling, the company behind MobileRecharge.com, provides its services to hundreds of thousands of consumers and businesses, with a focus on customer satisfaction. In 2014, Inc. 5000 listed KeepCalling as the 18th fastest growing company in the telecommunications industry in USA.
MobileRecharge.com goes on facilitating the connection between Mexican families and friends living far away, through online top up services.