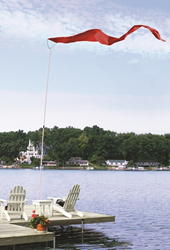 Watching the motion is actually relaxing, they are so smooth and balanced, it is like watching a ballet
Kalamazoo, MI (PRWEB) May 06, 2015
Dori Pole Pennant product finds a unique new use as a proven waterfront bird deterrent! After considerable testing, the manufacturer affirms that in the vast majority of installations of the tall pennant flags on lake docks and shorelines, birds such as Canada Geese and gulls tend to stay away from the big flowing shadow that the Dori Pole pennants produce.
In the last two decades, Dori Pole has been adding excitement to events such as NASCAR races, Super Bowls and the Olympics, but now is gaining attention on waterfront properties. As with festivals, nothing says "Fun" and "Festive" like colorful flags and streamers floating in the breeze but now, cottage owners and yacht clubs, for example, can enjoy vibrant, flowing color while also discouraging nuisance birds from making a mess! And, the deterrent can be viewed as a completely humane way to avoid bird mess as the birds tend to simply move along to a different location.
The Dori Pole Nylon Pennant System is far from just a pole-mounted flag or windsock. Instead with a fiberglass pole and a 14-foot long nylon pennant, it offers the industry's only non-tangling, swiveling "yoke" bracket, which mounts eye catching pennants that "dance" in the wind while deterring bird messes for cleaner docks, shore lines and shore stations. Two pennant sizes are offered, the largest is 14 feet long and 24 inches at its widest point and the shortest is 8' long and 18" wide at the top. Both sizes easily drift, sway and float in even the gentlest of breezes.
"Watching the motion is actually relaxing, they are so smooth and balanced. It is like watching a ballet. As soon as we added them to our line of products for festivals and events I took one up to our lake cottage in Newaygo, Michigan. I placed that one into the end dock post and liked the effect so much that the next week, I added two more on a 60-foot dock section at 20-foot intervals. The response was unbelievable from our neighbors. Apparently, they liked them as well and there are more than 50 installed on our chain of four lakes! And, almost everyone cites a positive review of the bird aspect," Roger Lepley, President of Consort Display Group, says.
With over sixty color choices, as well as three pole lengths of 12', 13.5', and 19', homeowners have creative freedom to paint their waterfront with whichever palette they desire. Staunch, proud supporters of college football can even order their team's colors with a "Dori Pole" of their choice.
"It's a battle of the Maize and Blue against the Spartan Green and White at one of our local lakes each fall weekend." Lepley said. "Let the pennant-flying battles begin!"
Dori Pole has been a part of Consort Display Group roster of products since 2006, the Dori Pole was created as a pennant-display system by California landscape architect Vince Mackel in 1984 and named the product after his daughter. Dori's namesake has soared to new heights over the last two decades at festivals across North America and, most recently, seeing a spike as a more humane way of deterring wildlife.
Some migrating birds such as Canada Geese, which can weigh up to 14 lbs. and leave over a pound per week of droppings behind, have been multiplying near waterfront properties due to food supplies, few predators, and protections under the Migratory Bird Treaty Act. Waterfront homeowners have discovered that the unpredictable movements of the wind-blown pennants can quickly encourage geese (and other unwanted birds) to leave their property, preventing the accumulations of unsightly bird droppings.
The lightweight Dori Pole system can be shipped by UPS or FedEx, which is unique for poles and pennants of their size. Dori Pole is manufactured in Michigan. For more info, call 800-525-6424 toll free; Fax 888-880-6341 toll free; email info(at)consort(dot)com; visit http://www.doripole.com; or write to Consort Display Group, 2129 Portage St. Kalamazoo, MI 49001, USA.