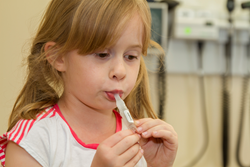 We began with the idea that children would prefer to spit than have their blood drawn
St. Petersburg, FL (PRWEB) May 14, 2015
All Children's Hospital Johns Hopkins Medicine hopes to make a common form of chemotherapy safer for young cancer patients by studying the level of the medication in their saliva. Thanks to a three-year $717,000 grant from the National Cancer Institute (NCI), researchers will begin to study the effectiveness of using saliva samples, instead of blood samples, to alert physicians of potentially toxic levels of a chemotherapy drug. Patients who are old enough to spit upon request will place a small tube in their mouth and let saliva flow into a collection filter. For infants and toddlers, a special wick will be placed in the mouth to absorb saliva.
Researchers hope that saliva samples can also be used to help determine which chemotherapy drugs may be the best match to a tumor's genetic profile as well as the lowest level of the drug that will still be effective in fighting the cancer. The grant will also help establish a pediatric cancer biorepository - a place to process, organize and safely store biologic samples (such as blood) that can be used to study the origins of childhood illness and test new approaches to treatment or prevention. The nationally accredited Johns Hopkins Medicine Pediatric Biorepository at All Children's Hospital is the only pediatric biorepository in the state of Florida and one of only a handful of such facilities in the United States.
"We began with the idea that children would prefer to spit than have their blood drawn," says Margaret Penno, Ph.D., director of the Johns Hopkins Medicine Pediatric Biorepository at All Children's Hospital. "This work will also support the broader goal of developing and refining the techniques and procedures needed to stabilize and store samples—in this case, saliva—in a biorepository so that the sample can be used for future studies that can benefit patients with pediatric cancer and other pediatric diseases."
Researchers will collect samples from 60 patients at the Johns Hopkins All Children's Cancer & Blood Disorders Institute in St. Petersburg who are being treated with a chemotherapy drug called doxorubicin. Typically, blood samples are taken frequently to measure doxorubicin levels in blood plasma, but it can be challenging to collect the necessary amounts of blood from infants and small children. Another future goal is to develop a home kit for collection of saliva samples.
"This award reflects our growing focus on advancing pediatric care through innovative research aimed at developing new or improved approaches to treatment and prevention of childhood diseases," said Jonathan Ellen, M.D., president and physician-in-chief of All Children's Hospital Johns Hopkins Medicine and vice dean and professor of pediatrics at the Johns Hopkins University School of Medicine.
Read more about this study
This study has been supported by National Cancer Institute grant number 1R21CA183623-01A1
About All Children's Hospital
All Children's Hospital, a member of Johns Hopkins Medicine located in St. Petersburg, is the most advanced children's hospital on Florida's west coast and a U.S. News & World Report Best Children's Hospital, ranking in the top 50 in three specialty areas. With over 50 pediatric specialties and 259 beds, All Children's is dedicated to advancing children's health through treatment, research, education and advocacy. Programs that include a Clinical and Translational Research Organization, pediatric biorepository and a new pediatric residency program are driving innovation in personalized pediatric medicine and child health. A network of 11 outpatient care centers in eight counties along with affiliate programs at regional hospitals makes All Children's a leading provider of care for Florida's children.