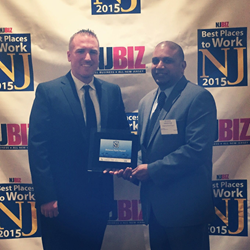 According to Pete Luciano, Balance Point co-founder, "We take a lot of satisfaction in the fact that so much weight was placed on the employee responses. It was great to see that our employees really value what we do here!"
Glen Rock, NJ (PRWEB) May 05, 2015
The team at Balance Point Payroll is thrilled to have joined the ranks as one of the Best Places to Work in New Jersey. NJBIZ, the creator of this program, honored this year's top places of employment with an awards reception and ceremony on April 30, 2015 at the Hilton East Brunswick. At this time, the final numbers were revealed and Balance Point impressively placed as #18 on the list.
This special recognition was determined based on a few requirements of eligibility coupled with a two-part evaluation including workplace policies, practices, philosophy, systems, and demographics as well as an employee experience survey. As a means of truly measuring employee satisfaction and happiness, the survey was a major part of the criteria, accounting for 75% of the score.
Balance Point Payroll was established in 2003 with a commitment to offer better, easier, and more personalized payroll processing. A strong belief in answering to clients instead of shareholders sets the company apart from much of the competition, therefore providing an alternative choice for payroll and workforce management customers. When laying the groundwork for Balance Point, the founders also agreed that an integral component of their core mission was to create and maintain a work environment as pleasant as their services. Balance Point Payroll is dedicated to keeping all of these values and goals in alignment as the company continues to plan for the future of workforce management.