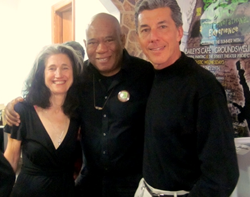 Bailey's Café and Stertil-Koni share a similar mission: we are both dedicated to the lifting process.
Stevensville, Maryland (PRWEB) May 05, 2015
Stertil-Koni, the leader in heavy duty vehicle lifts, today announced that the company has made a $10,000 donation to Brooklyn, New York-based Bailey's Café, a 501(c)(3) charitable organization dedicated to providing creative and collaborative environments to the people in communities across New York City.
Founded in 2003, Bailey's Café is headquartered in the Bedford-Stuyvesant neighborhood of Brooklyn, has long-term partnerships with eight schools, more than 20 youth/community organizations and more than 25 teaching artists in the region. The organization serves its communities through school-based and summer programs, community-based arts programs and an artist-in-resident program.
The Stertil-Koni donation will help support Bailey's Cafe's broad range of activities as well as the day-to-day operations of the group's recently renovated community space, which celebrated a Grand Opening on April 25th.
Noted Stefanie Siegel, the executive director and founder of Bailey's Café, "Stertil-Koni was instrumental in helping us complete the build out of our new—and first!—home. Now Bailey's can really live its mission—to provide a place for youth and elders in the community to express themselves, grow as artists, and connect with each other in a nurturing environment. We are looking forward to continuing to build a partnership with our new friends at Stertil-Koni."
Also commenting was Stertil-Koni president, Dr. Jean DellAmore, who stated: "Bailey's Café and Stertil-Koni share a similar mission: we are both dedicated to the lifting process. In the case of Bailey's Café, we salute the organization and its executive director and founder, Stefanie Siegel, whose collective goal is to provide a direct lift to the lives of the people of New York."
"For our part," DellAmore continued, "New York is a very important region for our business and Stertil-Koni is committed to providing the very best in heavy duty vehicle lifting systems that consistently deliver safety, performance and durability."
More info on Bailey's Café at: http://baileyscafe.org.
About Stertil-Koni
Stertil-Koni, a brand of the Stertil Group, is the global market leader in heavy duty vehicle lifts – bus lifts and truck lifts– and is the preferred supplier to the world's leading companies in the truck and bus industries. Stertil-Koni's breadth of products meets all ranges of lifting needs and includes mobile lifts, two-post, four-post, in-ground piston lifts, parallelogram lifts, half-scissors and its innovative axle-engaging, in-ground, scissor lift configuration, ECOLIFT. Stertil-Koni is also now installing DIAMOND LIFT across North America, a full rise telescopic piston lift designed to set new standards in precision heavy duty lifting. Stertil-Koni USA is headquartered in Stevensville, Maryland. Stertil-Koni has production facilities in Europe in The Netherlands, and in the USA in Streator, Illinois.