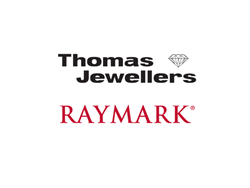 "Raymark's integrated, centralized retail operations suite will provide us with greater control over our inventory, enabling us to ensure that we always have the right products at the right locations." - Jeremy Thomas, Director at Thomas Jewellers
MONTREAL, Canada (PRWEB) May 05, 2015
Raymark is thrilled to announce that Thomas Jewellers has selected its complete suite of retail solutions. Established in 1896, Thomas Jewellers has grown to become one of Australia's oldest and most trusted family jewellers with nine stores across Victoria. The software initiative is aimed at modernizing the jewellery retailer's technology infrastructure in support of ongoing growth, improving operational control and better serving customers. Raymark's end-to-end suite of retail enterprise solutions will be deployed across the retailer's chain. The suite includes Point of Sale, Clienteling, Repairs, Order Management, CRM, Inventory Management, Merchandising, Analytics and more.
Raymark's extensive experience in the jewellery vertical l was a key factor influencing Thomas Jewellers' selection. The suite's rich feature set and integrated reporting and analytics, enabling the retailer to gain visibility into every aspect of their business in real-time, were also notable factors influencing the decision. Most importantly, the return on investment that will stem from digitizing operations was key for Jeremy Thomas, Director at Thomas Jewellers, who said, "Raymark's integrated, centralized retail operations suite will provide us with greater control over our inventory, enabling us to ensure that we always have the right products at the right locations. The visibility we will gain into consumer behaviour will also enable us to know our customers better, and market to them in a more personal way, which is very much in line with Thomas Jewellers' longstanding tradition of excellence in customer service."
The first stores are expected to go live in the second half of 2015. "The Raymark team and the jewellery retailers in our global customer community are excited to welcome Thomas Jewellers. We are thrilled to collaborate with a jewellery retailer that has such a rich heritage of retailing in Australia, one of the international markets in which Raymark is currently expanding operations," said Marc Chriqui, President of Raymark.
About Raymark
For 25 years, Raymark has been empowering retailers with world-class enterprise software solutions and services to grow customer loyalty, improve associate productivity, optimize stock turns and increase sales. Raymark's integrated, end-to-end suite of retail technology solutions operate in real-time and provide retailers with everything they need for store operations, customer-centric retailing, planning and inventory management, reporting and analytics. To learn more, visit http://www.raymark.com.au.
About Thomas Jewellers
Founded in 1896, Thomas Jewellers is a family-owned retailer with over 100 years of exquisite diamonds & fine jewellery expertise. Known for carrying a wide range of jewellery of exceptional value, we pride ourselves in delivering satisfying shopping experiences for our customers. One of Australia's favourite diamond jewellery retailers, we operate nine stores across Australia along with an online shop at http://www.thomasjewellers.com.au.