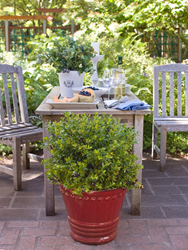 Whether mom is a gardener or a cook, these small edible fruit bushes are simple to grow, beautiful in the landscape and delicious to eat.
Lowell, OR (PRWEB) May 05, 2015
Flowers are big business on Mother's Day. Out of the 85.4 million moms in the U.S., an incredible 69 percent will receive flowers on Mother's Day, translating into almost $1.9 billion is sales of cut flowers.
Ask a mom what they want for Mother's Day, however, and 44 percent will say quality time with the family is at the top of the list.
Why not combine the two? Give Mom the "perfect gift" by spending time in the garden and helping her plant a beautiful shrub she'll enjoy year after year, not just for a few days.
For a gift that incorporates year-round color with summer fruit, choose one of the new blueberry plants from BrazelBerries by Fall Creek Farm & Nursery. These ornamental shrubs are perfect in the garden or in containers on patios and provide dainty flowers and colorful foliage in the spring, plump berries in the summer and stunning fall color.
"Brazelberries put delicious fruit at your fingertips so little hands can easily pick them," says new mother and berry expert Amelie Brazelton Aust, of Fall Creek Farm & Nursery. "Whether mom is a gardener or a cook, these small edible fruit bushes are simple to grow, beautiful in the landscape and delicious to eat."
With names like Peach Sorbet, Jelly Bean, Blueberry Glaze and Pink Icing, each Brazelberries blueberry produces juicy berries that taste as good as they sound.
Here are 3 tips to help mom grow her best Brazelberries yet:
Find the perfect spot
"Blueberries need at least six hours of sun each day. Plant them in mom's favorite sunny spot for a constant reminder," says Aust.
Next, check to see if the soil is acidic enough. A pH of 4.5-5.5 is ideal. A simple soil test indicates acidity, which can easily be adjusted with amendments.
Give the plant's roots plenty of growing room when planting in a container. Plant them in pots 16 inches or more in diameter and water deeply and regularly to make sure all of the soil within the pot is moist.
Prune for a better harvest
Pruning helps blueberry plants to put enough energy into producing the best fruit for the next season. Pruning also gives the bush more space between its branches and allows air to flow freely through the plant, helping to prevent disease.
Prune blueberries in late winter when the plants are still dormant or in the spring before flowering, says Aust. Remove all the stems that are damaged, old or dead.
Fertilizing is recommended in early spring. "Add an acid fertilizer such as those for rhododendrons and azaleas," Aust suggests. She recommends a second fertilizer application in late spring to give the plants an extra burst of energy for fruit production.
Protect plants from cold and wildlife
Make sure mom's plants are protected from birds and harsh weather. Birds love to eat berries, so cover plants with bird netting in the spring to keep critters away.
Berry bushes also need their roots protected from winter weather. Apply a deep layer of mulch around the base of the bush to protect roots. Spring's sudden cold snaps endanger emerging growth, as well. Be sure to cover blueberry bushes with burlap or blankets when the forecast calls for frost once buds and flowers are emerging.
For more information on the BrazelBerries® Collection, visit http://www.brazelberries.com.