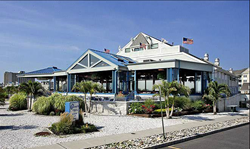 "Easter is the first day of Spring Training, by Mother's Day we are in shape and by Father's Day it's a go!"
Long Branch, NJ (PRWEB) May 04, 2015
For two decades, Rooney's Oceanfront Restaurant in Long Branch, New Jersey has been dazzling customers with their delicious food, eclectic drink menu, and gorgeous oceanfront view. Celebrating the restaurant's 20 year anniversary on June 26th, 2015, General Manager, Darrell Wordelmann may be looking at his best summer yet with the addition of new Executive Chef, Thomas Schoborg.
Wordelmann discovered his passion for the restaurant industry as a busboy at age twelve at Bart's Restaurant in Matawan, New Jersey. He was later upgraded to bar-back at MVP's Sports Café in Aberdeen, New Jersey before receiving a bartending position at The Varsity Club in Fair Haven, New Jersey. "If there was one person out there that I would give credit to my success in the restaurant industry, it would be Mark Gola, General Manager of the Tiger's Tale in Montgomery, New Jersey," said Wordelmann. "He has a great personality and showed me the ropes of cooking."
When original owners Jack and Gayle Rooney opened their oceanfront restaurant in 1995 (now under new ownership), Wordelmann jumped at the chance to work for them. "What I saw at Rooney's was a place of volume and energy. It had what I loved," said Wordelmann who started out as a server and bartender before being promoted to General Manager at 25 years old. Describing the eatery as an upscale, casual dining experience serving American Seafood Cuisine, Wordelmann is proud of the restaurant's transformation over the years. "When we first opened, there was no Pier Village, Beachfront North or Asbury Park, really nothing as we were the first ones to be on the ocean," said Wordelmann. "Pretty much our slogan is 'It's a big ocean, someone has to embrace it!'" Most recently, the restaurant renovated the main patio adding ceiling lights and plans to update the inside bar. "We may have something up our sleeves that could be the WOW factor in the near future," said Wordelmann.
Known as the "Home of the Angry Lobster" and for their Raw Bar, Rooney's Oceanfront Restaurant also has received the Wine Spectator Award for 17 years, voted the Best of Monmouth County in 2014, and was announced the winner of the 2014 and 2015 Open Table's Diner's Choice Award. "I do believe we have the best bartending staff in the area," said Wordelmann. "With our panoramic ocean view, it's a great atmosphere." As the summer approaches, the restaurant is gearing up for another busy season with all hands on deck. "We are one of the busiest restaurants with the smallest kitchen," said Wordelmann. "Easter is the first day of Spring Training, by Mother's Day we are in shape and by Father's Day it's a go!"
The staff is also excited about welcoming new Executive Chef, Thomas Schoborg to the team for what will be his first summer at the Jersey Shore. A graduate of the French Culinary Institute in New York City, Schoborg has worked at some of the most renowned restaurants in the country. "He has a southern style with a modern flare," said Wordelmann. "Between my experience here and his skills, I think we will go to the next level. I really think he'll become famous."
Despite the restaurant's success, Wordelmann has no plans to open an eatery of his own any time soon. "Everyone says 'why don't you open your own restaurant,' but I just love Rooney's and I have been the face of Rooney's for 20 years and plan on going 20 more," said Wordelmann. "The new ownership has given me new life and their dedication to making Rooney's one of the best places is what I needed to hear for my next 20 year stint."
Personally, Wordelmann is involved in fundraising for The National Multiple Sclerosis Society in honor of his mother who passed away from the illness. "I had to start out young to help take care of my mother, but it really made me become the man that I am today," said Wordelmann. "If I had to do everything in my life all over again, I would do the exact same thing. It's been a great first half and God willing I hope to have another great second half!" Wordelmann is also a supporter of the Wounded Warriors project and he hosts lunches for the Long Branch Rotary Club at the restaurant. "At the end of the day, I don't think that I need to own a restaurant because I already own the dead palm trees and the empty chairs," Wordelmann added. "But I do see myself writing a book so I can put the final stamp on this amazing ride."
Rooney's Oceanfront Restaurant is open Monday through Thursday from 11:30 am to 9:00 pm and Friday and Saturday until 10:00 pm. Sunday's hours are from 10:30 am to 9:00 pm. A Brunch Buffet is offered until 2:00 pm on Sundays. Live entertainment at the outdoor bar on Monday, Wednesday, Friday and Sunday evenings. Private party space and catering is available accommodating 510 patrons. To view their menu or make a reservation, visit http://www.rooneysocean.com/ or call 732.440.3027.
About Bielat Santore & Company
Bielat Santore & Company is an established commercial real estate firm. The company's expertise lies chiefly within the restaurant and hospitality industry, specializing in the sale of restaurants and other food and beverage real estate businesses. Since 1978, the principals of Bielat Santore & Company, Barry Bielat and Richard Santore, have sold more restaurants and similar type properties in New Jersey than any other real estate company. Furthermore, the firm has secured in excess of $500,000,000 in financing to facilitate these transactions. Visit the company's website, http://www.123bsc.com for the latest in new listings, property searches, available land, market data, financing trends, RSS feeds, press releases and more.