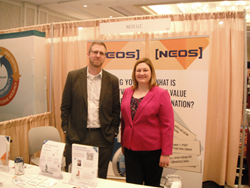 Many insurers want to implement innovative products or expand product lines but struggle to get over the finish line.
Hartford, CT (PRWEB) May 04, 2015
NEOS LLC, a management consulting and technology services firm, will host a joint webinar with Milliman, the leading actuarial firm, on "Overcoming the Hurdles of Product Portfolio Expansion" on May 22 at 12 pm ET.
Steve Leigh, Managing Consultant at NEOS, and Kelly Rabin, Consulting Actuary at Milliman, will discuss the common barriers preventing product expansion, how to get past those barriers, and recommendations to help insurers gain confidence in their ability to grow their portfolios. Many insurers want to implement innovative products or expand product lines but struggle to get over the finish line. There is a gap between the products they want to offer and their internal capabilities.
During the webinar, there will be an opportunity for attendees to participate and submit specific problems or roadblocks they are experiencing to be addressed by the speakers.
"We have witnessed insurers' ongoing struggles to release their products on time and budget. If they can't be quick to market, they will lose their competitive advantage," says Steve Leigh. "That's why Kelly and I wanted to host this webinar: to provide some insight to help them get over these hurdles."
Kelly Rabin adds, "Amid generational shifts and a record-low interest rate environment, the insurance industry must innovate in order to stay relevant. But it's not enough to have a great idea – you also need the right process throughout the organization to make it happen."
This webinar is part of a series of NEOS-hosted webinars focusing on a variety of topics within the financial services, insurance and information media industries. Previous webinars have addressed topics such as gaining value from closed block portfolios, leveraging processes to reduce operational risk and the use of actionable key performance indicators. The webinar series includes experts from across industries to maximize value to attendees.
About NEOS
NEOS is a management consulting and technology services firm specializing in the global financial services and insurance industry with deep experience in holistic modernization, enterprise data, and business operations consulting. Clients range from large multi-line companies to more specialized providers. Services are focused around business process optimization, project value assurance and realization, data strategy, and product development strategies. Solutions encompass legacy systems modernization, closed block insurance product management, operational and IT risk, and business-technology strategy. For further information, visit http://www.neosllc.com.
All rights reserved. NEOS and Vgo are registered trademarks of NEOS Holdings LLC.
About Milliman
Milliman is among the world's largest providers of actuarial and related products and services. The firm has consulting practices in healthcare, property & casualty insurance, life insurance and financial services, and employee benefits. Founded in 1947, Milliman is an independent firm with offices in major cities around the globe. For further information, visit http://www.milliman.com