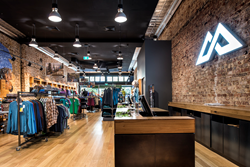 "The JustEnough team provided very valuable thought leadership to improve and grow our processes," said Van Dyk, CIO, Kathmandu
Irvine, CA (PRWEB) May 05, 2015
JustEnough Software Corporation, a leading provider of demand management solutions for retail, wholesale and direct-to-consumer businesses worldwide, today announced that Kathmandu was chosen as a 2015 Top Innovator by Apparel Magazine. A specialty retailer focused on delivering outdoor gear to travel and adventure enthusiasts, Kathmandu was honored for its adoption of JustEnough's retail planning solutions that support Kathmandu's current forecasting and planning operations, as well as those needed to manage an increasingly global business.
Apparel Magazine devoted its May 2015 issue to recognizing innovative apparel retailers, brands and manufacturers that are pushing the envelope and using innovation to drive their business operations. The honored companies all demonstrated "innovation in action", whether these advances occurred through a software implementation, avant garde product launch or new business strategy.
"Not long ago, Kathmandu recognized that existing legacy systems and processes were no longer going to be able to support our growth strategy," said Jolann Van Dyk, CIO, Kathmandu. "We wanted to work with a leading global vendor that provides retail planning solutions, and also had the intellectual property to teach us what we should be doing, align bespoke processes and provide a single source of the truth."
Kathmandu was recognized for its use of JustEnough's Assortment and Item Planning, Demand Forecasting, Inventory Planning and Replenishment solutions which helped it to recognize benefits including:

A significant reduction in overall stock holdings
Real-time insights that enable planners to make smarter, more informed purchase decisions
Better managed stock throughput and boundaries to deal with out-of-stock exceptions
Improved visibility of operating stock requirements that contribute to better planning practices around assortment range planning, option counts and product lifecycle
"The JustEnough team provided very valuable thought leadership to improve and grow our processes. They helped successfully lead the Kathmandu team through the change management process," Van Dyk said. "We look forward to continuing our partnership with JustEnough as we continue to grow and expand."
"With Kathmandu being named a Top Innovator, their efforts highlight exactly how JustEnough's robust planning technology helps retailers to better forecast and manage inventory reducing out-of-stocks and excess inventory," said Malcolm Buxton, president and CEO, JustEnough. "Our retail planning solutions provide bottom-line benefits and a real competitive advantage for our customers, helping them to achieve their business and financial goals."
####
About Kathmandu
Kathmandu is a leading omni-channel retailer that operates 158 stores and an ecommerce channel specializing in quality clothing and equipment for travel- and adventure-driven consumers. The company operates in New Zealand, Australia and the United Kingdom.
About JustEnough
JustEnough® is a leading provider of Demand Management solutions for retail,
wholesale and direct-to-consumer businesses and is serving the planning needs of many of the world's leading brands. Available OnSite and OnCloud, JustEnough's innovative solutions help companies to forecast customer demand; plan assortments, allocations and inventory; shape demand with markdowns and promotions and then execute on those plans.