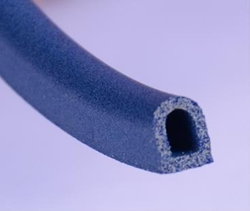 Visit Booth #935 at CANSEC to learn more about EMI shielding.
Boisbriand, Quebec, Canada (PRWEB) May 05, 2015
Elasto Proxy, custom-fabricator of industrial rubber products and plastic parts, is announcing help for military buyers who need EMI shielding. As Elasto Proxy explains in an on-line article and video, EMI gaskets made of particle-filled silicones combine the advantages of silicone rubber with the electrical properties of metals.
EMI Gaskets for Military and Defense
Silicone rubber is a synthetic elastomer with useful physical and chemical properties over a wide range of temperatures. By filling specialty silicones with metal-coated particles, compounders create materials that conduct electricity and resist electromagnetic interference (EMI). Elasto Proxy recommends particle-filled silicones, and then creates custom EMI gaskets for military buyers and the defense industry.
As Elasto Proxy's new article explains, some product designers worry that particle-filled elastomers are too hard, too prone to tearing, too expensive, and unable to meet performance requirements. Elasto Proxy's article offers evidence to refute each claim, and explains that nickel-coated graphite silicones have the performance levels of silver-coated products and can meet MIL-DTL-83528 requirements.
About Elasto Proxy – How Can We Help You?
Elasto Proxy specializes in the design and custom fabrication of specialty seals and gaskets, thermal and acoustic insulation, vibration dampening products and materials, EMI shielding, and other high-quality rubber and plastic parts for a variety of industries, including military and defense.
For over 25 years, we've supplied low-to-medium volume quantities of high-quality products such as custom gaskets. If you're headed to CANSEC 2015, visit Elasto Proxy in Booth #935 and contact Clyde Sharpe at csharpe(at)elastoproxy(dot)com to reserve your place at one of our informational sessions.
Media Contact:
Clyde Sharpe
General Manager
Elasto Proxy Inc.
4035 Lavoisier Street
Boisbriand, Quebec, Canada J7H 1N1
csharpe(at)elastoproxy(dot)com
Ph: (450) 434-2744