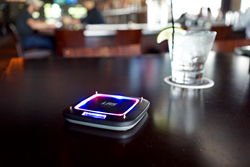 The offerings represent a significant step in LRS' mission of creating seamless integration between equipment, apps and services that help restaurants improve operations and enhance the guest experience.
Dallas, Texas (PRWEB) May 04, 2015
Long Range Systems (LRS) today announced four updates to the company's solution portfolio. New solutions include the company's next generation Guest Pager, and the latest in table location technology, wait list management and digital guest survey tools. The offerings represent a significant step in LRS' mission of creating seamless integration between equipment, apps and services that help restaurants improve operations and enhance the guest experience.
The Next Generation Guest Pager
LRS, the original inventor of the restaurant "Coaster Call" pager 20 years ago, has launched a reimagined version of its legacy guest pager. The new pager is available in three options: Guest Pager, Guest Pager Pro and Guest Pager Note.
New features:

New Design: A modern, ergonomic form factor
Stronger Case: Improved durability from a more resilient case with a large rubber bumper and more rounded corners to better absorb shock
Two-way Communication: A two-way device that not only acknowledges but also confirms when a page is delivered, providing businesses a visual confirmation in an accompanying LRS transmitter or mobile application when a page is sent
LED Color Choices: Red, blue, green, ice white, and rainbow*
Digital Numbers: Pagers' numbers are digitally displayed and may be updated remotely at the business location as needed*
Custom Messaging: All versions may include a custom branded label, and the Guest Pager Note features a clear lid on the main label area to lift and insert promotional messaging that may be updated and swapped out when needed
Compatibility: compatible with all LRS legacy and new guest paging transmitters. They stack charge with the older Coaster Call. No new transmitter or charger required for existing users.
*Available on the Guest Pager Pro and Guest Pager Note only
David Futrell, franchise owner of nine Fuddruckers locations, was one of the first restaurants to begin using the new pagers. "The LRS guest paging system has always been an effective solution for us, but now it looks more modern and our customers have taken notice and really like the new pager," said Futrell "We've done a lot of modernizing and so these go hand in hand with all the great things we've been doing with our restaurant."
The Latest in Table Location Technology
LRS has enhanced its Table Tracker solution in two ways – increased order management to support high-volume businesses and new in-app and online reporting.
Table Tracker is a table location system that allows fast casual and quick service restaurants to track where guests are sitting for fast and efficient tableside delivery. The system also allows restaurants to set and monitor benchmarks for delivery times in real time to know what orders need to be expedited or prioritized. The reporting function gives restaurants access to analytics to track performance over time.
Table Tracker gives restaurants the ability to manage multiple, functional displays that give independent views for to-go, dine-in, and kitchen areas; and it is also the only dual-functioning tracking and messaging device. If the guest is not sitting at a table, the device will buzz to notify the guest that their order is ready.
The latest version of Table Tracker supports high-volume businesses with up to 125 in-process orders at one time. Additionally, the system is able to actively page up to 50 trackers at a time. This is significant for large restaurant, cafeteria and food court operations needing to simultaneously track, locate, or page high numbers of customers.
The newest release also provides new in-app and online reporting capabilities. Reporting can now be segmented and benchmarked to overlay and compare locations, order types, and shifts; and, track performance against benchmarks. The integrated online portal allows multi-unit corporate offices the opportunity to contrast unit performance, ensure brand quality, and measure each business unit against operational goals. The reports also allow management to analyze and optimize table configurations in the restaurant for maximum demand or under usage.
Pizza Ranch Vice president of marketing Cody Pierce said, "After installing Table Tracker, we were able to consistently meet delivery time goals for custom pizzas." Pierce also said that the staff appreciates Table Tracker because no longer do they have to walk around searching for little numbers on the tables. He added, "Management loves it because it gives them visibility they didn't have before."
Get more information on Table Tracker with this informational video.
On Cue for Restaurants – Complete Guest Management System
LRS also announced an updated version of On Cue for Restaurants (OCR), the only waitlist app that integrates with multiple hardware tools to form a complete table management solution.
When integrated with LRS guest pagers, OCR provides restaurant guests the option of being notified by either text message or by an LRS guest pager. New in version 2.0 is integration with Table Updater, a handheld device that allows staff to update table status from across the restaurant. Also new is the ability to sync the app across multiple iPads in a single location.
"On Cue is all about enabling simplicity and efficiency at the front door," said LRS chief executive officer John Weber. "With Table Updater, the host doesn't have to leave the stand to go scout for open tables, creating a better front door experience for customers and a more efficient table management process for the restaurant."
On Cue for Restaurants 2.0 is available for download in the Apple Store.
Digital Guest Feedback
LRS has added the option of validation questions to Check Point, a tablet-based survey application that helps restaurants collect on-site customer feedback. Check Point contains a survey builder tool for users to craft questions that fit their specific business needs.
The latest version of Check Point allows management to add verification questions that must be answered prior to surveying a guest. This feature allows the business to collect key information about the guest such as their table number, server name or order type. With this information, the guest experience can be tracked against key metrics to determine specific issues with staff or operations.
The additional information also helps identify and address complaints immediately, before the guest leaves. The application can notify managers immediately via text message or an LRS messaging pager when guests leave a negative response, providing details on who, where and what the concern is, allowing management to talk with unhappy customers immediately and address their specific concerns.
"Check Point Surveys provides the immediate benefit of on-site collection of guest feedback for accurate, consistent, actionable information that allows managers to instantaneously and appropriately react to both positive and negative situations," said Weber. "Over time, Check Point helps companies understand and measure customer perceptions about operations, staff, offerings, services and environment."
About Long Range Systems
LRS is dedicated to developing technologies that help businesses provide better customer experiences. LRS integrates state-of-the-art messaging and tracking equipment with leading-edge software to streamline communications between guests and staff. Solutions include paging and messaging devices, tracking devices, guest management applications, and customer feedback tools; all aimed at giving businesses confidence that operations are running smoothly and guests are well cared for. For more information, visit http://www.LRSus.com