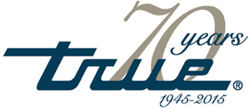 We are proud to honor the winner, from this year's impressive list of finalists, since the award mirrors our own unwavering commitment to excellence for 70 years now. -True Owner Steve Trulaske
St. Louis, MO (PRWEB) May 04, 2015
True Refrigeration®, the leading refrigeration and freezer choice of top chefs, hotels, beverage providers and discriminating homeowners, is pleased to be the official sponsor of the Best New Restaurant category at the upcoming James Beard Awards, held in Chicago on May 4. The event will be hosted by celebrity chef and television personality Alton Brown.
The honor, officially dubbed the "2015 James Beard Foundation Best New Restaurant Award Presented by True Refrigeration," will be bestowed upon a restaurant opened in 2014 that exhibits excellence in food, beverage and service and deemed likely to make a significant impact on the industry for years to come.
"We are proud to honor the winner, from this year's impressive list of finalists, since the award mirrors our own unwavering commitment to excellence for 70 years now," notes Steve Trulaske, owner of True. "Professional chefs and discriminating homeowners alike rely on the quality of our handcrafted, made in America refrigeration products."
Tweet this: @true_res to sponsor "Best New Restaurant" category at James Beard Foundation awards in Chicago. http://bit.ly/19F6cqL
The winner of this year's Best New Restaurant award—one of the most prestigious events of the evening—will join such famed past winners as ABC Kitchen in New York and Next in Chicago.
The ceremony will be held at the Chicago Civic Opera House and marks the first time in the event's 25-year history that it will be conducted outside of New York.
# # #
Media Notes
Related Links:

For more information about True Residential®, please call 888-616-8783 or visit http://www.true-residential.com.
ABOUT TRUE RESIDENTIAL™
True Residential is a division of True Manufacturing Company. For 70 years True® has been an industry leader in commercial refrigeration. Now homeowners can experience that same quality with True Residential, an authentic commercial refrigeration line refined for the home. Handcrafted in the USA with the same meticulous attention to quality and detail industry professionals demand, the residential series includes award-winning wine cabinets, refrigerators, beverage centers, refrigerator drawers and beer dispensers. For more information about True Residential, call 888-616-8783 or visit http://www.true-residential.com.
ABOUT THE JAMES BEARD FOUNDATION
(JBF) Founded in 1986, the James Beard Foundation celebrates, nurtures, and honors America's diverse culinary heritage through programs that educate and inspire. A cookbook author and teacher with an encyclopedic knowledge about food, James Beard, who died in 1985, was a champion of American cuisine. He helped educate and mentor generations of professional chefs and food enthusiasts, instilling in them the value of wholesome, healthful, and delicious food. Today JBF continues in the same spirit by administering a number of diverse programs that include educational initiatives, food industry awards, scholarships for culinary students, publications, chef advocacy training, and thought-leader convening. The Foundation also maintains the historic James Beard House in New York City's Greenwich Village as a "performance space" for visiting chefs. In September of 2012, JBF launched the Diplomatic Culinary Partnership with the U.S. Department of State's Office of Protocol and helped create the American Chef Corps as a way to champion American chefs abroad, promote American food products, and foster an interest in American culinary culture and history through international programs and initiatives. One such project is the next world's fair, Expo Milano 2015, for which the James Beard Foundation is co-leading the effort for the State Department to design and produce the USA Pavilion, a global gathering of 147 countries addressing the challenges of how we will feed ourselves in the future. The pavilion, whose theme will be "American Food 2.0: United to Feed the Planet," will showcase America's contributions to global food security and gastronomy. For more information, please visit jamesbeard.org. Find insights on food at the James Beard Foundation's blog Delights & Prejudices. Join the James Beard Foundation on Facebook. Follow the James Beard Foundation on Twitter and Instagram.