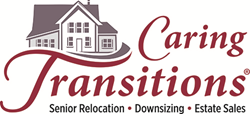 Portland, OR (PRWEB) May 04, 2015
Teresa Farrington is looking forward to using her professional experience and personal compassion to help seniors and their families through her new business, Caring Transitions of Portland Metro.
Caring Transitions is America's largest resource specializing in managing relocations for seniors and busy families as well as downsizing and estate liquidations. In addition to organizing, packing, decluttering, moving and resettling, Caring Transitions can handle on-site and online estate sales, liquidations, and preparing homes for market. Caring Transitions of Portland Metro serves Gladstone, Oregon City, West Linn, Lake Oswego, Beavercreek, Eagle Creek, Happy Valley, Clackamas and the surrounding communities.
Farrington has a personal understanding of the struggles many families are facing when relocating loved one or clearing out the home of someone who has passed.
"My mom is the youngest of seven, so I've seen what my cousins have gone through, but I've also had two personal experiences of my own. When my husband passed away 20 years ago, I didn't touch his things for two years. When I moved two years later, I had to go through all those memories again. Then, in 2008, my parents took a month of unpaid time off to clear out my grandparents' home. They were so bogged down in the entire process that when it came time to come home, they ended up just giving a bunch of items away," Farrington said.
"Whether your situation is planned or unexpected, Caring Transitions is designed to be a resource you can rely on in situations like these. We've been in your shoes and we know the challenges you're facing. We are here to help," she added.
Farrington is a Certified Relocation and Transition Specialist, a designation bestowed by an independent organization that evaluates providers of senior relocation services. Caring Transitions of Portland Metro is bonded and insured.
Farrington earned a degree in accounting last year while working full time and raising her son Alex. She left the corporate financial industry so she could work close to home, spend more time with Alex and be more involved with the community.
"I've lived in the Gladstone area for 14 years, but I don't feel like I've had the opportunity to really get involved. I'm looking forward to embracing my role as a small business owner and becoming a real part of the community," she said.
Caring Transitions is a trusted and highly respected national company leading the way in senior relocation, household liquidations and estate sale management in more than 150 locations across the United States. Caring Transitions is part of the International Franchise Association, the Small Business Association's Franchise Registry, VetFran and Minority Fran.
"The work we do is not about a hard sale. We want to you to tell us what you need so, together, we can create a customized plan than makes your life better. That's what Caring Transitions is really about – taking this stress off your shoulders," Farrington said.
For additional information about Caring Transitions and to learn how the company can help you and your family, call (971)888-3790, email TFarrington(at)CaringTransitions(dot)net or visit http://www.CaringTransitionsPDXMetro.com.
About Caring Transitions
Caring Transitions, founded in 2006, is the first national franchising concept specializing in senior relocation and transition services. With more than 150 locations throughout the United States all owned and operated by Certified Relocation and Transition Specialists, Caring Transitions provides clients with supportive moves, auctions, rightsizing and transitions. This includes expert advice plus a well-executed transition plan beginning with the initial sorting of personal belongings through packing, shipping and selling of items to the final clearing and cleaning of the property. For more information, visit http://www.caringtransitions.com or visit us on Facebook or Twitter.
Caring Transitions is part of Strategic Franchising Systems. It is a member of the International Franchise Association, the Small Business Association's Franchise Registry, VetFran and Minority Fran.